Brother is one of the finest names in the sewing industry, known for producing high-quality machines for sewing and embroidery. The LB5000 model is a versatile machine that offers users an easy entry into both crafts. We'll take a look at its pros and cons before providing a recommendation.
Brother LB5000 Specifications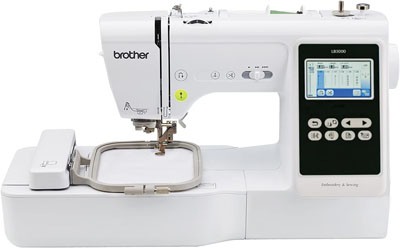 The Brother LB5000 is a versatile 2-in-1 machine that offers sewing and embroidery capabilities. No matter which option you choose, this machine offers the ultimate simplicity of use.
It features a 3.7-inch LCD touchscreen panel where you can display your embroidery design in full color before beginning the first stitch. You can edit the design before beginning, choosing features like thread color customization.
Additionally, you can choose from 80 built-in designs or upload your own with the USB port. It also comes with 9 fonts that allow you to select the perfect style for monogramming and lettering.
The Brother LB5000 features a 4×4-inch embroidery field. It also comes with a hoop and an embroidery arm to ensure you have all the tools you need for the perfect results.
When it comes to your sewing projects, the Brother LB5000 features 103 built-in sewing stitches. Additionally, 10 of those stitches are for different styles of auto-size buttonholes. You can find the perfect stitch for any project you can come up with, whether it's home décor or beautiful garments.
You can also enjoy using the automatic needle threader, which takes the struggle out of getting started on any project. The top drop-in bobbin is jam-resistant to keep your sewing running smoothly from start to finish. The Brother LB5000 also comes with 7 quick-change sewing feet, giving you a number of options for your projects.
When compared to the Brother SE1900, the LB5000 comes up a bit short for more advanced users. The SE1900 has 240 built-in stitches, 10 buttonhole stitches, 11 fonts, and 138 designs, giving it a clear advantage in options over the LB5000. Additionally, the SE1900 features a 5×7-inch embroidery area. This larger area is much preferred over the smaller area of the LB5000. In fact, the LB5000's embroidery area is considered a drawback, especially once users become accustomed to using the embroidery feature.
The Brother LB5000 comes in multiple models, including one for Star Wars fans and another for Marvel fans. With either option, there are built-in designs for those franchises that fans will love in addition to the decorative designs on the outside of the machines.
When you need to switch between sewing and embroidering, the process is smooth. This is an essential characteristic for any 2-in-1 machine, as it makes using it a breeze.
On the downside, in addition to the smaller embroidery area, this is a single-needle machine. That means you must stop during embroidering to swap out your colors for any multi-color designs. While this isn't a problem for someone who does this as a hobby, it can be inconvenient if you run a business and need to produce results quickly.
Additionally, the Brother LB5000 is not equipped with embroidery software. You must find and install your own. While many free options exist, this can be problematic when getting started.
Other Features
When you choose the Brother LB5000, you'll enjoy the following features:
710 stitches per minute
16.5″D x 7.7″W x 12″H dimensions
14-pound weight
7 sewing feet (buttonhole, button sewing, monogramming, zigzag, zipper, overcasting, and bind stitch)
Variable speed controls
Recommendation
The Brother LB5000 is an excellent machine for those just getting started with embroidery. Because the embroidery area is so small and the stitches per minute are on the lower end of the scale, we recommend this machine for beginners. It's a great way to get comfortable with both sewing and embroidery; however, it would not do for the high-volume production that you would find in a professional setting.
Click here to purchase Brother LB5000 on Amazon.com