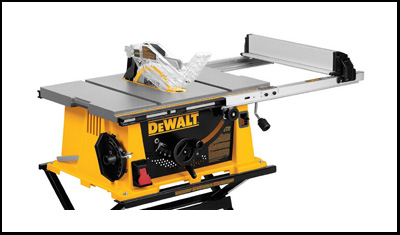 The DEWALT DW 744x has a site-pro modular guarding system that allows for making adjustments of guarding components without using tools. The machine has a telescopic fence that provides a 24 and half inch rip capacity without sacrificing on portability. Bottom of Form Pinion and rack fence rails fasten the work of adjusting fences. The machine has high-torque motor, 15-amp with power to cut lumber hardwoods.
The DEWALT DW744x is a versatile table saw that pairs a powerful 15 amp motor with a portable design plus a max rip with a capacity of 24-1/2 inches. This saw offers setups which are specific to the given applications. The saw stand is steady and can be folded conveniently. There is also a push stick, a miter gauge, 24-tooth carbide blade and a dependable 10-inch.
Features
Powerful and Consistent performance
DEWALT table saw has a powerful 15 amp motor with high power. That is why it is able to deliver power that you need to complete all your tough jobs. This ranges from jobs such as cutting pressure-treated lumber and hardwoods. The saw is made up of a 10 inch blade which spins at a speed of 3,650 rpm for clean and but quick cuts. The saw has a capacity to maintain consistent blade speeds because of its built-in electronic feedback. The quality cuts are always very high even when you are doing tough jobs in the field. The internal motor mechanism is made in a way to provide comfort as well as ensure accuracy. This mechanism keeps vibration to the minimum and makes the arbor to be very stable. It is also important to note that the saw has a soft-start feature that makes it possible to have an extended motor-life and gear and therefore it reduces the startup torque.
Convenient Site-Pro Modular Guarding System
The DEWALT is a highly versatileguarding system for the Site-Pro Modular. This is a feature that makes it easier to setup a number of operations. It simply makes it possible for application adjustment to be made without using tools.
The saw has a configuration that is exclusive to the fence. This is what makes it possible to have a big 24-1/2 inch rip capacity to be employed.The Pinion and rack fence rails make the work of fence adjustments to be smooth, fast and accurate. The rails are allowed to move to 24 inches in order to rip full sheets by the use of telescopic design. It also makes it also facilitates the retraction for compact design which is very easy to transport.
Apart from having a huge rip capacity, this saw can also be used to cut dados for up to a width of 13/16 inches. At the angle of 90 degree the saw can cut a maximum cut of 3-1/8 inches while at 45 degrees, it can manage 2-1/4 inches. Support is provided by a table with a surface area of 26-1/2 by 19-1/4. This is necessary when dealing with large applications.
Portable Design
The DEWALT table has a design that can be very compact as well as portable. The table weighs just 57 pounds when everything is included. This makes it very easier to not only setup but also tear down. This is necessary to make it possible for you to move it from the worksite to the workshop without wasting a lot of time.
There is also ample onboard storage on the table saw. This provides amble storage for some components such as push sticks when they are not in use. There is also a very important dust collection port that makes it possible to connect the saw to the shop to facilitate dust extraction and ensure employees operate in a cleaner working area. The table saw comes with a 24 rip capacity and it is covered with a DEWALT warranty package that is comprised of a one year free service contract and a 90-day money back guarantee.
Contents of the box
The DEWALT DW744X table saw comes with a folding table, carbide blades, push stick and miter gauge.
PROS:
The machine has a great fence design
This can be seen by scrolling to the right width and dual track is used in eliminating the unevenness that you get from the use of other fences.
This blade snapping happens when using a simple lever. This is what makes it easier to remove when making certain cuts and the do the replacement in order to make other additional cuts. That means it is very easier and fast just as flipping a light switch. The push stick which is stored inside the fence is considered to be a great feature. This is mainly because it has a soft start that works very well.
CONS:
The plastic casing is too lightweight and thin
Many users consider this plastic to be very fragile. There is a general thinking that a stronger and thicker plastic could have made the table saw more stable.
Rudimentary storage slots for the miter gauge
This makes it very awkward when replacing the gauge. In most cases, this is considered a minor point.
Recommendations
All in all, this table saw is still a superior saw in comparison with the saws that I have used in the past. The saw is associated with numerous advantages such as being able to cut with ease and its great ability to rip up 24.5 inches. This makes it an essential tool for many workshops. Its cuts have consistent accuracy at all times.