Like a name like DeWalt, you know you're in safe hands when it comes to power tools. The hard part is deciding which model will best suit your needs. Will the DCS393 be the saw for you or will the DCS391B prove to be a cut above the rest? Let's take a closer look at what each one has to offer.
DeWalt DCS393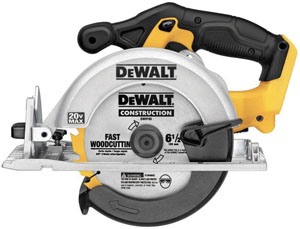 The DeWalt DCS393 is a circular saw equipped with 6-1/2" carbide tipped blade. Measuring in at 12.5" x 9" x 10" and weighing just 7.63 pounds, makes this saw a great tool to use when travelling around. But don't let the fact that it's lightweight fool you as it's still strong enough to complete most jobs. One thing to be aware of is that the battery is sold separately. That being said, it is compatible with any DeWalt 20V battery, so if you do happen to have one lying around from another tool, it makes sense to simply use that.
But, putting battery power aside, the motor on this saw is capable of producing an eye-watering 3700 rpm, which is pretty impressive for a tool of this size. The thin blade and0 to 50 degrees in bevel capacity means you can achieve accurate cuts each and every time. Just watch how the blade glides through wood like a hot knife through butter. Very little effort needed.
Another fantastic feature this saw has to offer is the optimized over molded comfort grip that delivers optimal balance and control. It also ensures handling remains comfortable.
Overall, it's probably more expensive than the equivalent electric version, but in terms of usability, it's not bad for those wanting a decent tool to use on the move. It's also really strong and capable of cutting through a range of different materials with ease.
But, how does it measure up against the DCS391B?
DeWalt DCS391B
The DeWalt DCS391B is another 6 ½" circular saw that DeWalt has to offer. Measuring in at 10" L x 15" W x 8"H, and weighing 7.72 pounds, it's slightly wider and heavier than the DCS393. That may be down to the fact that this model has a tougher engine than that of the DS393, pulling in a maximum RPM of 5250.
In terms of usability, the DCS391B works like a dream, slicing through wood like a hot knife through butter. And with a well-designed rubber molded grip, holding on to the machine's handle feels comfortable, even when cutting aggressively. A with its cousin model, the blade is carbide tipped to help give it more rigidity.
This saw was designed to be able to cut angles of 45 and 90 degrees. And it does. However, the cuts it produces may not be quite as accurate or precise as that of the DCS393. While it's quite capable of producing quality cuts when carving through just 6 or 7 inches, much thicker and you may see signs the saw is struggling.
One upgrade that can be seen from that of the DCS393 is this model has an alloy molded foot, opposed to the steel foot found on the DCS393.
Unfortunately, as with the DCS393, there's no battery included with this saw as standard.
Recommendation
So, if you're looking for a circular saw that's easy to use, comfortable to work with, and demonstrates just how efficient a 3,700-rpm motor can run at, it seems the DCS391B would be a better choice. You get the same DeWalt quality you'd expect from any of the brand's tools, it's super easy to use, and it's pretty reasonably priced too.
However, ifyou're all about getting the most powerful saw out there for your money, then you may want to consider the DCS391B instead. Capable of producing more than 1500 rpm than the DCS393, this is one beast of a machine. It's strong and tough and can cut through almost anything without too much trouble.