Whatever your reason for needing a milling machine, one thing you can be sure of is that Precision Matthews have something to help. The question is, "which model to choose"? Two very popular models out at the moment are the PM-25MV and the PM-727M and in this review we're going to outline the benefits of both so you can see which one's going to be better for you.
Precision Matthews PM-25MV Milling Machine
In terms of size, the unit itself measures in at 24" from front to back and 38" wide with a net weight of 265 lbs.In terms of quality, the PM-25MV is a well-rounded and rigid machine that works well and was made to last.Featuring a DC brushless, variable speed motor, this milling machine is capable of producing cuts you'd expect from much bigger models. With a maximum rpm speed of 2250, just you try stopping it!
In terms of usability, it's smooth running when in operation. And thanks to the belt drive, it's also really quiet when in use.Another good selling point is that it's also pretty easy to use with large, clearly labeled dials and controls at the table ends. So even if you're new to the world of milling, it shouldn't take you too long to pick up.
You can mill 10 threads per inch using this machine allowing you to make more precise cuts, and italso hasa reverse switch integrated into it which is good for tapping.And, in the rare event that anything should happen, Precision Matthew include a 3-year warranty with the machine.
While there is an optional stand you can buy for the PM-25MV to sit on, it's really not necessary provided you have a solid workbench to secure it to. And the great thing is everything you need to attach it comes included in the box.
Now let's look at how the PM-727M compares.
Precision Matthews PM-727M Milling Machine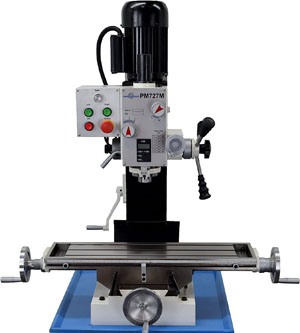 With a table size of just 7" x 27", the PM-727M milling machine makes a great addition to any workshop where space is an issue. However, weighing in at almost 500lbs, it's almost twice as heavy as the PM-25MV, so take extra care when moving it.It's also a little more expensive than the PM-25MV, but you are getting a lot more machine metal for your money.
Just because it's small in size, doesn't mean it's lacking in performance, it's just not quite as powerful as the PM-25MV. Running from 120V of power, this machineproduces a maximum RPM of 1700. However, running from the same amount of power, the PM-25MV can run at 2500 rpm, which is an extra 800rpm.
Another great quality the PM-727M has to offer is that's it's very easy to use. The mill head is easily adjustable either left or right to a 90-degree angle using the easy to read dials. Its ground steel gears enable impressive cutting quality, removing material fast and efficient.While the speed you want the machine to run at can be adjusted using the digital speed readout.
It also comes with the same 3-year Precision Matthews warranty if you do experience any problems.
Recommendation
If you're looking for a decent milling machine that's discrete and quiet, yet capable of tackling even the biggest of cuts, then thePM-25MV is definitely worth considering. It is by far, one of the quietest milling machines out there at the moment. Further thanks goes to the belt drive for performance as this machine makes for very smooth milling. That being said, it's also one of the most powerful, kicking out a staggering 2500rpm.
The PM-727M is another fantastic milling machine on offer from Precision Matthews. Sure, it may be a little more expensive than the PM-25MV, but it's compact, easy to use, and thanks to its ground steel gears, it enables excellent precision cutting. The choice, is yours.