If you need to trim bushes or cut a lot of wood quickly, a chainsaw may be for you. Chainsaws can help you quickly accomplish a variety of outdoor tasks much faster than a traditional saw can. Echo and Husqvarna make two very similar saws, but with a few key differences you should know about. Let's take a look at both, and see which one will fit your needs the best!
Echo CS-590 Chainsaw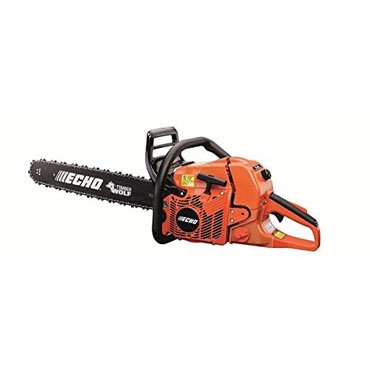 The Echo CS-590 chainsaw is a lightweight, gas-powered saw suitable for any outdoor tasks you may need to accomplish. At only 17 pounds, with a bar length of 20 inches, this saw is easy to maneuver with for long periods of time. It's professional-grade, and has 59.8 cc of power for excellent cutting performance. The Echo CS-590 also comes with a 2-stroke engine.
Equipped with an anti-vibration system, you will easily be able to work with the Echo CS-590 for hours with minimal difficulty. For added safety, a chain brake is included to prevent accidental injuries. This is accompanied by a translucent fuel tank, which conveniently allows you to keep an eye on your fuel level as you work.
The Echo CS-590 has a fuel tank capacity of 21.8 ounces. This product also comes with an automatic chain oiler,which helps conserve oil during use. The automatic chain oiler keeps your bar lubricated at all times, making this chainsaw easy to work with.
The Echo CS-590 also comes with a two-piece air filter that is easy to clean. This air filter is accessible and heavy duty, for your convenience. Additionally, to make cutting easier, this saw comes with bumper spikes that are replaceable as needed.
More features of the CS-590 Chainsaw
20 inch bar
Engine displacement of 59.8 cc
Digital ignition system
Automatic / adjustable oiling system
Fuel capacity of 21.8 oz
Husqvarna 460 Rancher Chainsaw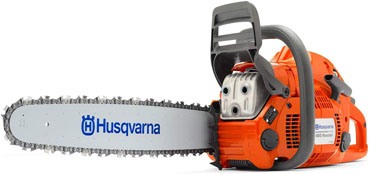 The Husqvarna 460 Rancher chainsaw is another lightweight chainsaw with many similar features to the prior product. This product is professional grade and durable, with 60.3 cc of power. The Husqvarna 460 is slightly lighter than the previous product, at 12.8 pounds. This chainsaw has a bar length of 24 inches.
Like the previous chainsaw, the Husqvarna 460 also comes with a chain brake for your safety. This chain brake is inertia-activated. This product also has an automatic oiler, which keeps your chain lubricated and ready-to-use. The Husqvarna 460 comes with an anti-vibration system, to allow you to work comfortably for extended periods of time.
Unlike the Echo CS-590, the Husqvarna 460 comes with Smart Start. This makes startup much easier and quicker. This chainsaw also comes with an X-Torq engine, which reduces gasoline emissions and saves fuel. Felling marks are also included with this product, to help you make cuts that are more accurate.
The Husqvarna 460 is suitable for tree pruning and firewood cutting. It comes with a tensioning system mounted on the side, for easy and fast adjustments as you work. This engine is also a 2-cycle, and has an air injection system that reduces your air filter cleanings. On top of this, the air filter has a quick-release for easier cleaning.
More features of the Husqvarna 460 Rancher Chainsaw
24 inch bar
Engine displacement of 60.3 cc
3.62 horsepower
Automatic oiling system
44 inch recommended maximum cut diameter
Recommendation
Both of these chainsaws would work well for any type of professional-grade yard work. The Echo CS-590 is lighter-weight and shorter than the Husqvarna 460 Rancher, but has bumper spikes for easier cutting. If you need a smaller chainsaw, and would prefer bumper spikes with great power, then the Echo CS-590 might be the best choice for you.
Contrastingly, if you prefer the idea of having a longer, heavier saw, with an X-Torq engine and Smart Start capabilities, then the Husqvarna 460 Rancher might be a better option for your needs. Either way, both chainsaws have great strength and user-friendly qualities, making both of them an excellent choice for heavy-duty yard work.