There are a ton of different options and features that come in association with regards to selecting a new chain saw. And if you are feeling a bit overwhelmed with all of the options that are out there, you are not alone. Here, we will take out some of the guesswork in your search for a new chain saw by reviewing one pretty great option: the Makita XCU06Z LXT.
Makita XCU06Z LXT Chain Saw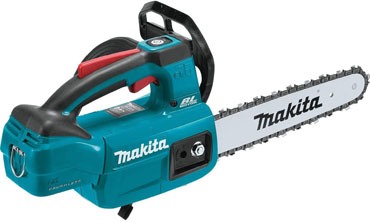 It is really of no huge surprise that there is a constantly increased demand for more cordless tool alternatives in comparison to their gas-powered counterparts. And Makita has stood up to meet that growing demand by expanding their line of cordless OPE, which includes this Makita XCU06Z LXT with a 10" top handle. This chain saw boasts lower noise, less maintenance, and zero emissions.
This super powerful chain saw is powered by Makita's most trusted 18V LXT® battery (which is sold separately) in order to ensure maximum run-time, speed, and power. It also showcases an incredibly well-built outer rotor brushless motor that comes complete with a direct drive system. This ensures that the user will receive the highest power efficiency which is equivalent to gas chain saws.
The Makita XCU06Z also offers high chain speed and a variable speed trigger which promotes increase cut speeds as well. And with the assistance of the torque boost mode, you can safely and efficiently cut through dense material with ease. If you're looking for a chain saw that also doesn't require a ton of maintenance, this one is one of the best out there. There is no spark plug that needs to be replaced, nor a muffler or air filter that needs clearing, and also no engine oil to change. You don't even need to drain the fuel when you store it. All you need to do is slide the battery on, and you are all set to get to work. There are also some great little "extras" that come in association with the XCU06Z including an electric brake, an adjustable automatic-lubricating chain, and a lock-off lever that is built-in in order to assist in preventing accidental engaging of the chain.
More features of the Makita XCU06Z LXT
Item Dimensions: 8.47 x 15.16 x 8.98 inches
Weight: 5.2 lbs. (without battery) 6.6 lbs. (with battery)
Guide Bar Length: 10 inches
Pitch: 3/8″ LP
Gauge: .043″
Chain Speed: 4,720 FPM
Power Type: Cordless
Recommendation
To sum it up, the Makita XCU06Z LXT chain saw is really one that comes pretty top-rated by all standards. And, it is also backed by the trusted and reliable name of Makita, meaning that you can be sure this thing will stand up to any and every single job that you throw its way. If you are in the market to purchase a brand new chain saw, this one is most certainly one that should top your list in terms of the one you should really be considering.