There are a large number of power cutters available on the market today. And if you are in the market for investing in one whether you are planning to use it for professional or personal, one that you may want to consider purchasing is the Makita EK7301 14-Inch 73cc Power Cutter.
Here, we will be showcasing all of the finest features that this power cutter has to offer its user, in order to determine if it may just be the perfect one for your personal or professional needs and desires.
Makita EK7301 14-Inch 73cc Power Cutter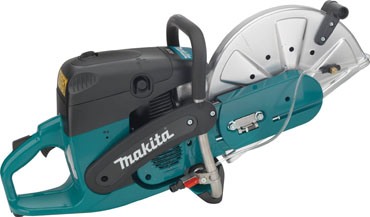 The Makita EK7301 14-Inch 73cc Power Cutter has a ton of excellent features that is sure to catch your eye. One thing is that this power cutter boasts a newly designed decompression valve along with a metering spring that boasts top-of-the-line precision fuel regulation upon start-up. With the assistance of starter grip compression and the start capacitor, you will be provided with the start-up support function that significantly decreases the force required from the pull-start. Additionally, this power cutter also offers a unique ignition coil with a start-support option that stores electrical energy and promotes faster and easier start-ups, every time.
This impressive power cutter also provides you with the super convenient On-Off-Choke switch on one single lever which ensures the ultimate sense of convenience for use. It also has a five-stage filtration system that allows for directional airflow and ensures significantly more clean air in order to promote improved saw performance overall in addition to increased engine life of the cutter. Furthermore, you can easily change the blade from outbound flush to central and back again for super-precise lateral cuts in fewer than two minutes!
Another great feature of this power cutter is that the carburetor is actually engineered and designed with the improved metering spring and deco-valve which offers for incredibly precise regulation of fuel upon starting it up. The SLR muffler also goes about recycling all of the unburned fuel vapor, while also reducing the losses of scavenging in terms of an overall improvement of consumption (by upwards of 15%).
More features of the Makita EK7301 14-Inch 73cc Power Cutter
Item Dimensions: 11.69 x 26.89 x 16.02 inches
Weight: 22 lbs.
Voltage: 120 volts
Power Source: Battery Operated
Recommendation
If you are looking for a trustworthy and incredibly reliable power cutter, the Makita EK7301 14-Inch 73cc Power Cutter is one of the finest options that is out there on the market today. This Makita power cutter boasts an unmatched motor that can power through even the toughest jobs, while also providing with you a super easy start-up each and every single time you need to use it. Makita is also one of the most highly regarded tool companies out there thanks to the tried and true products that they offer to the consumer. You can be sure that this one can stand up to any challenge you put it through quickly and with a superior sense of ease.