If you are in the market for a new angle grinder, you are well-aware of just how many options are available to you. Here, we will be reviewing two of Makita's top-rated paddle cutoff/angle grinders that may help save you some time in your research and shopping: the Makita XAG20Z 18V LXT BL 4-1/2"/ 5″ Paddle Cutoff/Angle Grinder and the Makita XAG16Z 18V LXT BL 4-1/2"/ 5″ Cut-Off/Angle Grinder.
Makita XAG20Z Paddle Cutoff/Angle Grinder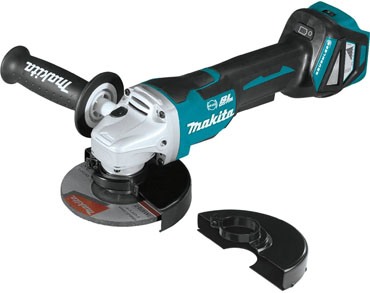 The Makita XAG20Z 18V LXT® is a cordless angle grinder with a variable speed control dial that allows for a manual RPM adjustment (between 3,000-8,500). Powered by the Makita Brushless Motor, this angle grinder offers you increased run-time, speed, and power, while also removing carbon brushes and enabling the motor to run at far cooler temperatures and significantly more efficiently as well.
In terms of safety, it offers the utmost sense of protection for the user by providing you with a fast-reacting electric brake that ensures a full-stop of the grinding or cut-off wheel in less than 2 seconds. The AFT® also will shut off the motor if for any reason the wheel's rotation suddenly is forced to stop
The Makita XAG20Z also offers its unique Automatic Speed Change™ which adjusts the grinders torque and speed automatically while operating in order to ensure optimal performance and making it the perfect option for cutting and grinding a large range of various materials including, but certainly not limited to concrete, tile, conduit, and pipe.
This angle grinder also offers Makita's most-trusted 18V Lithium-Ion system, which is powered by 18V Lithium-Ion slide-style, extended-life batteries (that also boast the quickest charging times in their category). And, is also offers the Star Protection Computer Controls™, which is Makita's state of the art communication technology that allows the battery and tool to be able to exchange real-time data while monitoring a variety of conditions while in use in order to prevent overheating, overloading, and over-discharging.
More Features of the Makita XAG20Z
Item Weight: 6.6 pounds
Product Dimensions: 7.9 x 13.9 x 5.4 inches
Makita XAG16Z Cut-Off/Angle Grinder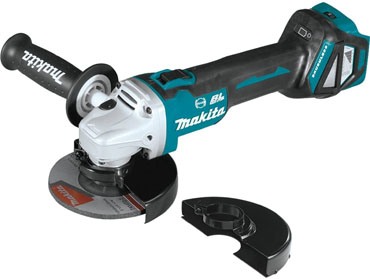 The Makita XAG16Z offers virtually all of the same dependable options as the Makita XAG20Z, but there are a few differences. One of which is that the XAG16Z has a slide switch with lock-on, while the XAG20Z has a paddle switch with no lock-on. That is basically the only difference between the two of these cut-off/angle grinders.
Both are the same size, and same weight, and offer a unique ergonomic design making them both incredibly lightweight and easy to handle with control. One of the biggest drawbacks of these two is the fact that the battery and charger need to be purchased separately, however that's really the only downside. If you are looking for a handy angle grinder that is sure to get the job done right, the first time, this is a great choice as well.
More Features of the Makita XAG16Z
Item Weight: 6.6 pounds
Product Dimensions: 7.9 x 13.9 x 5.4 inches
Recommendation
Regardless of what you are looking for in a new cut-off/angle grinder, you can be sure that both of these Makita options are a great choice. They are both heavy-duty, incredibly resilient, and strikingly lightweight. They are also both highly regarded in their categories for being able to stand up to virtually any challenge you opt to throw their way.
Makita is a tried and true brand name that offers only the finest quality to their consumers, and they have certainly gone above and beyond with regards to the Makita XAG20Z and the Makita XAG16Z. If you are seeking a great new angle grinder that is sure to fit your needs and desires for all of your cutting and grinding needs, both professional and personal, you really can't go wrong with either one of these options.