If you are in the market for a handy new worksite table saw, you may be well-aware by now that there are a ton of options available. If perhaps you are feeling a bit overwhelmed as to all of the seemingly limitless options out there, we have selected two top-rated options that you may just want to take a look at: the Bosch 4100XC-10 and the Bosch 4100-10. Here, we will be comparing and contrasting these two table saws in order to more concisely be able to properly evaluate their pros and cons so that you can make the best investment for your personal needs.
Bosch 4100XC-10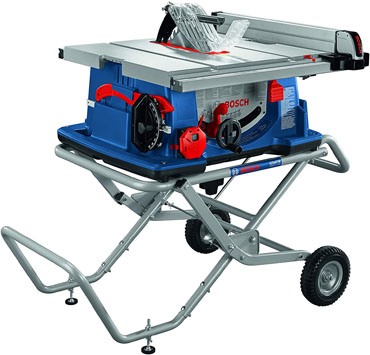 Let's first begin by analyzing the Bosch 4100XC-10. The Bosch 4100XC-10 is a 10". portable worksite table saw that provides the user with profession-level rip capacity. The ease in portability, thanks to the gravity-rise wheeled stand (with 8" rubber-composite treaded wheels), ensures that you can take this saw to any job site in order to successfully get all of your work accomplished. The Bosch 4100XC-10 offers a hefty 15-amp saw that distributes a max 4.0 HP ensuring unmatched on-the-job production. The incredibly advanced soft-start circuitry additionally provides you with an effortless yet super-fast operational speed.
The Bosch 4100XC-10's constant response circuitry system also assists in maintaining its quick speed under heavy loads. It additionally offers the added safety features of restart protection (which prevents accidental startups) and overload protection (which prevents overheating). While this one has the capacity to rip 4' goods in half with ease, it also boasts a SquareLock rip fence which is designed to ensure maximum ease-of-use, and also a handy auxiliary fence that assists with control of being able to work with more narrow goods. Regardless of what you are looking to get out of your portable table saw, this one is a great choice.
More Features of the Bosch 4100XC-10
Item Dimensions: 27 x 32.5 x 13 inches
Speed: 3650 RPM
Item Weight: 94 Pounds
Voltage: 120 volts
Bosch 4100-10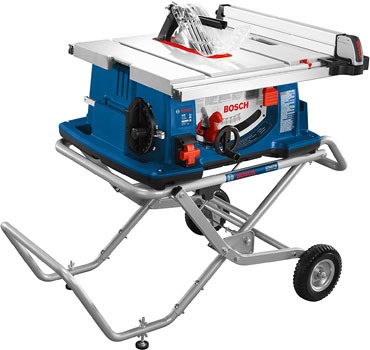 The Bosch 4100-10 is quite comparable to the Bosch 4100XC-10 in terms of being incredibly mobile and super light-weight while boasting some hefty power. This table saw weighs a mere 60lbs and has a 15-amp motor that delivers 4.0 HP. It may be small, but it has the capability to cut through virtually any hardness and thickness of wood (upwards of 2") with the utmost ease and finest precision.
With the assistance of the soft-start feature, you can be sure that you will receive a smooth start-up every time, without having to compensate for either power or speed or power, and you won't have to worry about tripping your circuit breaker either. The Bosch 4100-10 table saw offers a 25" capacity for ripping capable of being able to slice through 4' sheets without hassle. Thanks to the well-designed fence, you can glide with ease, and the height of the blade is easy to adjust simply by rotating the wheel. If you are looking for a portable table saw that is a bit more compact while still boasting a hefty amount of power, this one is hard to beat.
More Features of the Bosch 4100-10
Item Dimensions: 29 x 32 x 13.25 inches
Speed: 3650 RPM
Item Weight: 60 Pounds
Voltage: 120 volts
Recommendation
Both the Bosch 4100XC-10 and the Bosch 4100-10 are excellent options for portable work saws. They both offer supreme power, maximum cutting capability, protection against overheating and preventing power surges, and unmatched precision. The biggest difference between the two is largely the size in terms of weight. If you are on the go more often, you may want to opt to haul the Bosch 4100-10 with you due to the fact that it is approximately 30 lbs. lighter than the Bosch 4100XC-10. However, if you plan on using your work saw in equal parts of in-shop and being able to take it on the go, the Bosch 4100XC-10 may be your go-to table saw. While both are great, the choice is yours as to narrowing down what your specific needs are overall!