For those enjoying working on home repairs, DIY projects, or small work projects, a slide miter saw is a perfect companion when it comes to a job well done. Nowhere is this more evident than with that of the Delta S26-263L.
Delta S26-263L Shopmaster 10 Slide Miter Saw with Laser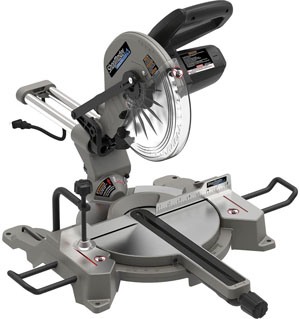 Delta's S26-263L model is a prime example of a slide miter saw that is built for practicality.
A most lightweight and durable of models, this is a unit that can easily be moved around, allowing the user to use it on a variety of jobs in and around the home environment and further afield.
When this 10-inch model is set down, it could not be safer. This is thanks to its inclusion of a spindle lock. This works to keep everything tight and, therefore,secure. Furthermore, a lock control system located on the front of the saw increases such security.
Table extensions here work to make those jobs with long pieces of wood all the more accessible. At the same time, the left bevel action allows a zero to 45-degree action, which enables you to cut at full bevel if you prefer.
Performance-wise, the S26-263L boasts a quick cut every time at a speed of 5500 RPM, while eliminating any cut vibration in the process.What's more,with a laser, these are some of the most precision cuts made all the easier.
Ultimately, the Delta S26-263L is an ideal choice for those searching for a miter saw that offers a more customized use while encouraging freedom when cutting.
This is the unit that can tackle that thicker and longer type of material, accommodating up to 16 inches thickness here. So, it's a preferred choice for many looking to cut items such as fencing posts, cutting boards, logs, and lumbar.
However, its biggest draw is for those looking for a reliable and robust piece of kit that can cut through the most basic of items with ease. This means making short work of typical projects such as picture frames and crown molding and other such project types.
One of the more reasonably priced slide miter saws, the Deltabrand is renowned for its reliability when it comes to such power tools.This is highlighted by their fantastic Delta S26-263L Shopmaster 10 Slide Miter Saw with Laser.
Features of the Delta S26-263L:
A lightweight and transportable of designs
Laser guide system
Bevels left
Built-in laser
Strong motor construction
Spindle lock
Table extensions
Saw and hardware included as standard
Comes complete with a dust collection bag as well as a work clamp
Cord protected from the blade
3 Year warranty
Wattage 1800 watts / Bulb voltage 120 volts
Recommendation
The Delta S26-263L Shopmaster 10 Slide Miter Saw with Laser is a versatile and handy piece of kit. With the ability to perform a vast selection of tasks swiftly and with ease, the inclusion of a built-in-laser makes this the perfect model, significantly improving the precision of all the projects it takes on.