If woodworking is your passion or profession, you already understand the importance of a good saw. It's convenient to have a sliding compound miter saw for tasks like trimming crown molding and cross-cutting lumber. But it's challenging to narrow down the selection of 12-inch miter saws. That's why we reviewed the Delta Shopmaster S26-272L in depth. Let's see if it's the best fit for your needs.
Features of the Delta Shopmaster 12" Sliding Compound Miter Saw
Here's a closer look at the specifications and capabilities of the saw. We'll point out criticisms at the end.
Cutting capacity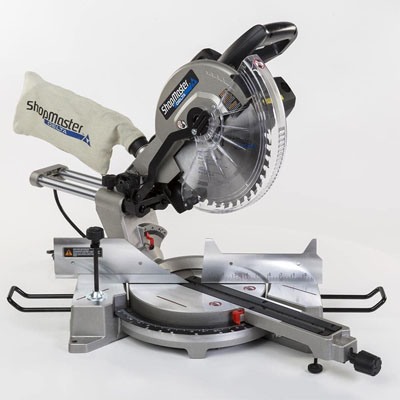 First, this is a 12-inch saw with a 13 ½ inch cross-cut capacity at 90°.
When beveled to 45°, it can cut lumber up to 9 ½ inches. As you might imagine, it's perfect for baseboards and crown molding.
One downside is that the saw only bevels to the left, not to the right. This may require the workpiece to be flipped. The other con is that there are no wings for cutting long pieces. However, support extensions add a few inches to either side.
The miter settings have stops at the most common angles like 0°, 22.5°, 31.6°, and 45° on both the left and right sides. Nevertheless, the saw has more extensive miter angles up to 50° on the right.
All the cam-lock controls are standard, sturdy, and easy to use with one hand. It only takes a half turn to lock the angle stop in place.
Precision cuts
The S26-272L comes with a 40-tooth blade which is suitable for rough cuts.
Moreover, it features an upgraded laser line indicator. It projects a red stripe showing where the blade will cut. Then, it's just a matter of matching up the marking on the workpiece with the laser line.
Powerful and reliable
Like most miter saws in its class, the S26-272L has a 15-amp motor that runs off a typical 120 V outlet. It makes quick work of slicing lumber and trimming molding.
The no-load speed is 4000 RPM. That's equivalent to or a little faster than competitors' models. Why does RPM matter? A speedier rotation means quicker, smoother cuts.
Safety features
The electric brake stops the blade from spinning moments after releasing the trigger. It makes the workspace safer and protects workpieces against damage.
Of course, the blade has a transparent, adjustable blade guard. There's also a work clamp attached to the fence.
Portability and cleanup
The saw weighs 55 pounds and has carry handles. It also has mounting holes for fixing it to a workbench.
Furthermore, there's no dust collection port, but it has a dust bag and clamp. It may be possible to attach a shop vac with an adapter.
Other benefits
Blade changes are a snap with the included combo tool that stores at the saw's base. One end is a Phillips screwdriver, and the other is a hex key.
Lastly, Delta offers a 3-year warranty to the original purchaser.
Recommendation
If you're a professional or an enthusiast looking to make beveled, mitered, and cross-cuts for door casings, crown molding, baseboards, and more, the Delta Shopmaster S26-272L is an excellent choice. However, we do have two criticisms. First, the saw only bevels to the left. Secondly, while it does come with a collection bag, it isn't immediately compatible with a shop vacuum for dust extraction.
Besides these issues, the S26-272L is a powerful and user-friendly tool worth having in the shop. The laser cut line and electric brake are especially noteworthy features.
Click here to purchase Delta Shopmaster S26-272L on Amazon.com