If you are finding yourself caught in the midst of searching for the perfect table saw for your personal needs, you may be feeling a bit overwhelmed as to all of the seemingly unlimited options that are available on the market today. In this brief article, we will be exploring one great table saw that you may just want to take to time to consider: the Delta 36-6023 10 Inch Table Saw.
Delta 36-6023 10 Inch Table Saw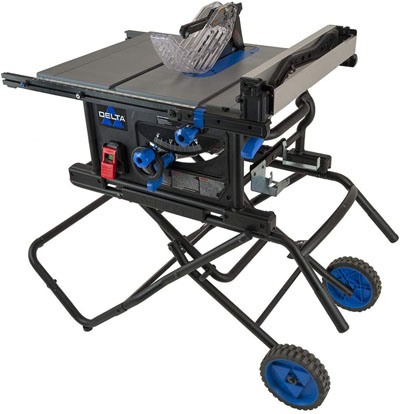 The Delta 36-6023 10" table saw boasts an incredibly powerful 15-amp motor, which can produce upwards of 5000 RPM, and offers you the capability of easily being able to rip through anything from pressure-treated wood to hardwood without any issue. With the aid of the hefty 32.5 inch rip capacity, you will find that this table saw provides the user with an incredibly sturdy surface which makes this table saw more than capable of handling larger materials.
The invaluably useful rack and pinion fence system also ensures that the fence can handle any adjustments quickly, smoothly, and more accurately as well. The flip-down design ripping fence additionally allows for significantly more narrow and precise rip cuts.
The Delta 36-6023 table saw comes complete with a uniquely designed rolling stand that folds down in a single step making the saw super portable, and capable of being loaded-up, moved, and stored with ease. This stand is incredibly heavy-duty and thanks to its tubular-style frame, it is also perfect for the worksite. There is also a 2.5 inch dust port which allows for the option of being able to hook-up a vacuum in order to ensure that your work area is always kept clean and organized. And, this table saw also boasts a super convenient fence and guard storage feature on both sides of the saw.
More features of the Delta 36-6023 10 Inch Table Saw
Item Dimensions: 45 x 25 x 42 in.
Weight: 78 lbs.
Voltage: 120 volts
Speed: 5000 RPM
Blade Tilt: 45º Left
Table Size: 26.63 in. wide X 21 in. deep
Table Coating: Anti-Friction
Max. Depth of Cut at 90º: 3.5 in.
Max. Depth of Cut at 45º: 2.5 in.
Max. Rip Right of Blade: 32.5 in.
Max. Rip Left of Blade: 22.5 in.
Motor: 15 amp, Single phase, 60 Hz
Recommendation
The Delta 36-6023 10" table saw is an excellent option for anyone who is looking for a top-of-the-line table saw. Delta is a truly great brand that is ready to stand up to any challenge that you throw its way. It has the cutting power to take on even the strongest, thick types of wood. The table saw also comes with a Delta 10" carbide 28-tooth blade which is packaged along with your saw. The blade is more than reasonably capable of ripping and excellent with cross-cutting, ensuring a uniform and very smooth cut each and every time. If you are in the market for a brand new table saw, there is really no reason to not consider the Delta 36-6023 table saw.