Those who have been shopping for a new helical cutterhead planer have unsurprisingly been met with a tremendous amount of options in terms of all of the brands and options that are out there. If you are currently in that boat, then this is the article for you. Here, we will be shedding a bit of light on one cutterhead planer in particular in order to determine if, in fact, it may be a good fit for your personal needs. That cutter is the JET JWP-15BHH 15″ Helical Cutterhead Planer, and we will be examining all of the features that this one boasts for its users.
JET JWP-15BHH 15″ Helical Cutterhead Planer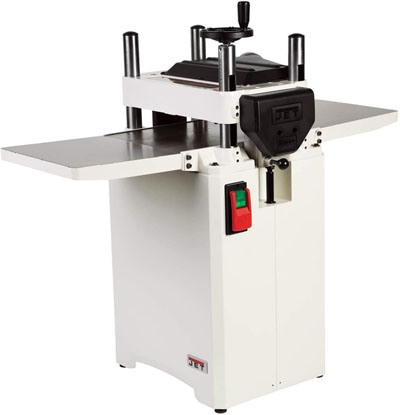 The JET 15" helical cutterhead planer is the perfect option for being able to promptly and quietly turn even the roughest pieces of lumber into incredibly smooth pieces of board. The JET helical cutterhead planer gets the job done with ease and power thanks in large part to the well-built 3-HP motor that comes complete in combination with the helical cutterhead which boasts forty-eight carbide staggered carbide quick-change knives. The v-belt transmission in the motor also significantly running noise and vibration, and with the assistance of the JET's super inventive "Precision Air Strut System" ( aka PASS™) you can be sure that you will see dependable upward pressure on the cutterhead while also significantly reducing the possibility of board snipe.
The dual infeed speed control for 16fpm or 20fpm also ensures that you get maximum cut efficiency with every use, and the heavy-duty precision ground cast iron table along with the innovative four-post design additionally offers the user maximum control as well as the utmost sense of support when the boards pass through the planer. Additionally, if you work with large pieces, this is a great option for you as the large cast-iron precision ground infeed/outfeed tables provide. The large handwheel on this planer also gives you a positive gear drive which can more easily move the head to whatever board thickness it is that you are needing. In fact, this planer gives you a maximum depth of cut 1/8″, 6″ cutting height, and a 15″ width capacity.
The gear-box is also incredibly conveniently located, which allows for easy and super fast adjustments of feed rate while also eliminating upwards of 1/8-inch material with every pass, thus ensuring that superior smooth finish. This one also comes with a dust port that easily and conveniently hooks-up to a dust management system which ensures that your shop is always kept clean and tidy. In addition to all of that, the large Precision cast-iron table and the infeed/outfeed tables also ensure that this planer will make a beautiful addition to your shop as well.
More features of the JET JWP-15BHH 15″ Helical Cutterhead Planer
Item Dimensions: 44.88 x 29.92 x 26.77 inches
Weight: 286 lbs.
Voltage: 230 volts
Speed: 3 horsepower
Included Components: Planer, Dust Port, Handwheel Assembly, Extension Tables, Tools
Recommendation
If you are looking for a state-of-the-art cutterhead planer that is both trustworthy and incredibly durable, this is the one for you. It backs an awesome warranty by JET, is incredibly powerful, and also exceptionally quiet. The JET JWP-15BHH 15″ Helical Cutterhead Planer truly is an awesome choice overall.