If you are in the market for a new brad nailer, there are most certainly a tremendous amount of great options that are available. One of those is the Milwaukee 2746-20 18-Gauge Brad Nailer, and here, we will be exploring some of the best features of this tool that really sets it apart from the rest!
Milwaukee 2746-20 18-Gauge Brad Nailer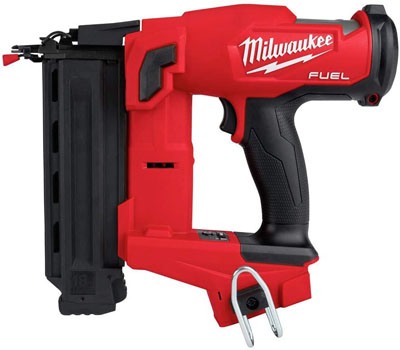 The Milwaukee 2746-20 18-Gauge Brad Nailer offers top-of-the-line productivity and ease of your workload at your job site. It also provides the user with nailing performance that is truly in a class all of its own. This brad nailer also gives you the ability to work free of the hassle of a hose and a compressor. The Milwaukee 2746-20 leverages a nitrogen air spring mechanism, and it ensures that you are capable of consistently being able to consistently sink nails to their proper depth every time in both soft and hard woods, while additionally guaranteeing clean nail holes with matching heads of the nails as well.
With the unique combination of Milwaukee's trusted Powerstate Brushless Motor and the Redlink Plus Intelligence system, users will be met with an unmatchable fire-rate with a zero-time ramp-up that ensures that their work remains more than efficient throughout the workday. Though not included, the Milwaukee 2746-20 operates with the assistance of Milwaukee's own Redlithium Batteries. The tool utilizes compressed nitrogen that is sealed in order to drive nails and thus totally eliminates the overall cost of having to invest in gas cartridges and also costly maintenance that is all too often associated with the competition.
The 18 gauge nailer comes with three interchangeable tips, a reversible belt hook and is incredibly compact and lightweight in size, which provides the user with the ease and capability to be able to access tighter spaces and limits fatigue that is felt throughout the workday. The Milwaukee brad nailer additionally delivers an unbeatable pneumatic performance which is something that is so sought by professional remodelers and carpenters who expect and appreciate that overall sense of convenience and freedom that cordless brad nailers offer.
Milwaukee 2746-20 18-Gauge Brad Nailer
Item Dimensions: 5.51 x 13.9 x 11.34 inches
Minimum Fastener Size: 5/8 in
Motor Type: Brushless
Nail Gauge: 18
Power Type: Cordless Electric
Maximum Fastener Size: 2-1/8 in
Recommendation
The Milwaukee 2746-20 18-Gauge Brad Nailer boasts a number of excellent features in addition to the above-mentioned features. This brad nailer gives you the opportunity to experience tool-free drive depth adjustment, a tool-free jam clearing latch, contact and sequential actuation firing modes, and the aid of a dry fire lockout. If you are needing a trustworthy, hardworking, lightweight, and compact brad nailer that is sure to stand up to any challenge, this is most certainly going to be one that you will want to consider and to also experience for yourself! Milwaukee is a tried and trusted name brand, and this tool most certainly makes the cut to be deemed a top-of-the-line nailer that you can be sure to depend on.