Although it's possible to make cutouts, joints, and decorative patterns without one, a router can make the difference between acceptable and exceptional results. Woodworkers who craft flawless edges and intricate designs depend on tools like the SKIL RT1323-00 router. In this comprehensive review, we'll discuss its features and capabilities and explore where it might fall short. Let's see how well it meets the diverse needs of its users so that you can make an informed decision.
Features of the SKIL RT1323-00 10A Fixed Base Corded Router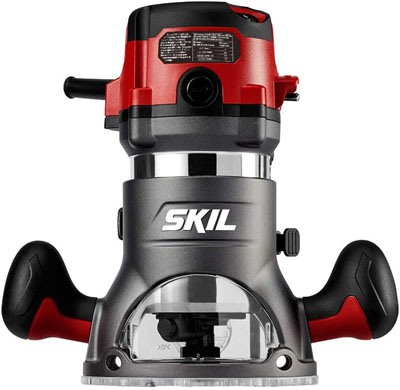 The RT1323-00 has a 2HP brushed motor with a soft start to reduce torque twist. Since it gradually but rapidly builds up speed, it's easy to control right from the beginning.
Variable speed control
Moreover, the variable speed control dial on top lets you match the velocity to the material. Cross-reference the suggested speeds stamped on a plate just below the dial.
For example, a base speed of 1 or 10,000 RPM is suggested for hardwoods, non-ferrous metals, and large-diameter bits. Then, the highest speed of 25,000 RPM, or level 6, is recommended for softwoods, plastics, and small-diameter bits.
Safety features
Also, on top, you'll see a green LED lit when the tool is plugged into a power outlet. This is a safety feature to avoid injury and damage to workpieces.
Straightforward, precise depth adjustments
As you set up the router, there is a knob with three coarse depth settings on the base. However, you can fine-tune with the micro-depth adjustment ring. It's marked in 1/256-inch increments for superior accuracy.
Furthermore, the SKIL RT1323-00 comes with an edge guide and quick-set screws for mounting.
Ergonomic, thoughtful design
When you're ready to work, three LED lights around the collet automatically power on with the router. They provide excellent visibility on the workpiece.
What's more, the sturdy, die-cast housing and molded grips provide a solid feel that practically eliminates vibrations. As a result, the router is easy to guide and control.
We also appreciated the built-in port and included adapter for dust extraction with a shop vac or similar.
Criticism
The biggest complaint is that the toggle switch that turns the power on and off is in an awkward location.
What comes in the box
The router comes with 1/2 inch and 1/4 inch collets and a collet wrench that stores on board. There's also a clear sub-base, dust extraction adapter, and a removable edge guide.
Additional information
Since the router has a brushed motor, the brushes may eventually wear out, and the router will no longer turn on. However, the brushes are user-replaceable.
The manufacturer offers a one-year limited warranty.
Recommendation
If you're in the market for a router that can handle quarter-inch and half-inch bits, the SKIL RT1323-00 is powerful, affordable, and easy to use. It's compatible with various materials, from soft plastic to metals and hardwoods.
Moreover, it offers user-friendly features like a soft start and comfortable handles. We also like the LED work lights, variable speed control, removable edge guide, live power indicator, and straightforward depth adjustments. The dust extraction port makes it even more convenient.
Click here to purchase SKIL RT1323-00 on Amazon.com