Is the RYOBI 7-1/4-inch circular saw worth your investment? Let's find out. We reviewed the PBLCS00B to see what it offers and where it fails.
Features of the RYOBI Cordless Circular Saw
Here are the highlights of the PBLCS300.
Brushless motor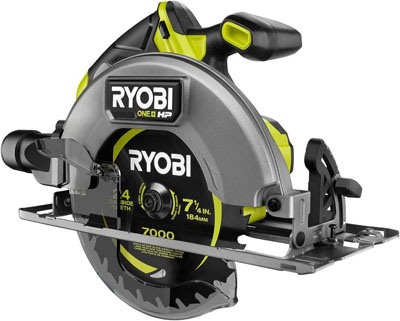 Unlike earlier cordless RYOBI saws, this one has a brushless motor. This update provides much-improved battery life and power.
As you may know, a brushless motor is internally frictionless because it uses magnets to energize the coils. It runs cooler, doesn't require brush replacements, and has a longer lifetime than a brushed motor. Furthermore, it delivers more power with less drain on the battery.
Speedier and more powerful than earlier models
The official word is that the PBLCS300 is 40% faster than the previous model. Owners have also noted a significant boost in speed and power. They love how this saw handles lumber and wall sheathing without slowing down or binding.
Longer runtime
Moreover, the saw is rated for over 325 cuts per charge with a 6Ah battery. However, this model is compatible with any of the RYOBI ONE+ battery packs. Therefore, a 4Ah pack will power fewer cuts. A 2Ah battery may only work if fully charged to start. But any of these options will also work with other RYOBI power tools.
Versatile with good capacity
The PBLCS300 bevels up to 56°. Additionally, it cuts up to 2-7/16 inches vertically and 1-3/4 inches at 45 degrees. Just adjust the tool-free bevel and depth gauges for precision cuts.
Thoughtful details
We like how the saw has an LED light to see the cutline better. Not all circular saws in this class offer that feature.
Not only that, but it has a sightline blower to clear dust from the cutline.
Plus, it has a dust collection adapter for 1-7/8 inch and 1-1/4 inch hoses. If you don't plan to use dust extraction, just remove the single screw holding the connector on the blade guard.
Finally, the ergonomic grip is comfortable and thoughtfully designed. The front handle is slightly off-center to prevent wrist strains.
Safety features
Thankfully, the adjustable clear polycarbonate blade guard isn't an obstacle in any way. And there's an ambidextrous safety switch near the trigger.
Meanwhile, the electronic blade brake halts the blade within two seconds.
A few cons
Unfortunately, there are a few downsides to the PBLCS300B. First, the "B" in the product name means "bare tool," as it's sold without a battery pack or charger.
Second, the saw performs best with at least a 4Ah battery or larger capacity and a thin kerf blade.
Lastly, this is a right-bladed saw, so it's not as convenient for left-handers. Instead, it has a better viewing angle for right-handed users.
Additional information
RYOBI includes a 24T thin kerf blade, a hex wrench for blade changes, a vacuum dust adaptor, a manual, and a 3-year warranty.
Recommendation
If you're searching for a cordless circular saw that offers excellent power, speed, and battery life, you can't go wrong with the RYOBI PBLCS300. It's a significant improvement on earlier saw models. There are a couple of caveats: Left-handed users may find it more challenging to see the cutline. Those without a RYOBI ONE+ battery pack and charger must purchase them separately. But with its wide range of features, the saw offers impressive value for the money.
Click here to purchase RYOBI PBLCS300B on Amazon.com