When you're an avid woodworker, you know how fast dust and debris clutter the workspace. You need dust extraction if you like to keep things clean and safe. But is it worth it to upgrade to a Shop Fox dust collector? Let's find out.
Features of the Shop Fox W1666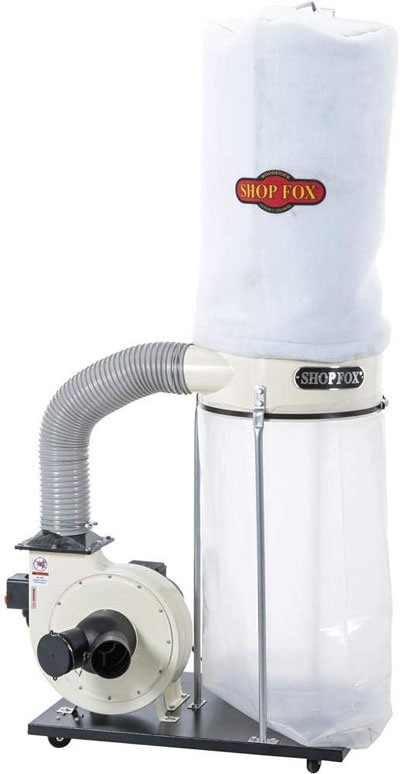 There's a noticeable difference in efficiency between using a shop vac and a professional-grade dust collector like the W1666. Here are its primary benefits and features.
Captures both microscopic dust and large debris
The Shop Fox has a 2.5-micron filter to capture tiny bits of debris that clog machinery and harm the lungs. This standard is considerably better than the filtration on competing models. It's also compatible with even higher-grade aftermarket filters.
Moreover, the powerful suction from the 2HP motor moves 1550 cubic feet of air per minute. It easily vacuums up sawdust and scraps along with the dust. Fair warning: it also sucks up nails and hand tools because it's that powerful.
Even so, users say it's quiet enough to listen to music or hear a phone ring while it's operating.
Dual inlets to draw debris from multiple tools
The 6-inch intake port has dual 4-inch inlets to draw from two woodworking machines simultaneously. Otherwise, the extra inlet can be capped off when not in use.
Durable construction
Since it has the capacity to extract large bits of debris, the heavy-duty 12-inch impeller is made of steel, not plastic. In fact, the Shop Fox W1666 is primarily built of powder-coated steel. The few parts that aren't steel are the power switch, the collection bag, and the bag supports (which are aluminum). As such, it's certainly rugged enough for years of service. That's unsurprising as it's made in an ISO 9000-certified facility with rigorous attention to detail.
Mobile or stationary
Even though W1666 is heavy, it comes with a steel base and casters, making it easy to move around. Also, the band clamps for the inlets have quick-release fasteners for rapid connections to different machines.
Safety paddle switch
The power switch has a removable lockout key to keep unauthorized users from operating the dust collector. Furthermore, the paddle-shaped button is easy to access and use.
Cons
Along with all the benefits of the Shop Fox W1666, there are a few downsides. For one, users with asthma may wish to continue using respiratory protection for safety.
Second, although assembly is straightforward, it may require two people to mount the bottom bag. Users working alone have suggested using magnets or tape to hold it while placing the strap.
Third, this dust collector is only appropriate for sawdust and chips, not metal, dirt, or hazardous materials.
Fourth, plastic dust lines generate static electricity. It's wise to ground the lines to prevent sparks from starting fires.
Lastly, the Shop Fox W1666 requires a 12A 220V single-phase outlet. Be aware of other devices that might rely on the same breaker.
Additional information
Shop Fox offers a two-year warranty on the W1666. The company sells replacement upper (cloth) and lower (plastic) collection bags.
Other measurements include:
78-inch height when bags are inflated.
Each bag is 33 inches tall and 19 inches in diameter.
The bag volume is 5.4 cubic feet.
The rolling base is 33-1/2 by 21-1/2-inches.
Recommendation
If you want efficient, quiet dust extraction with industry-leading filtration, the Shop Fox W1666 is made for you. Any woodworking shop can benefit from its many features, like mobility, dual inlets, and durability to keep costs down.
Click here to purchase Shop Fox W1666 on Amazon.com