Which metal cutting chop saw is right for you? Let's compare the Evolution S355CPSL to the S380CPS to see how they measure up for metal fabrication. We'll compare the features, pros, and cons of each dry-cut saw.
Evolution S355CPSL
The Evolution S355CPSL is the smaller and lighter of the two models. It's a dry-cut saw for cutting metal. Instead of abrasive cutting, which creates a lot of heat and sparks, it runs cooler and provides a precise cut. It's more powerful than the typical band saw and simplifies miter cuts, too.
Features of the Evolution S355CPSL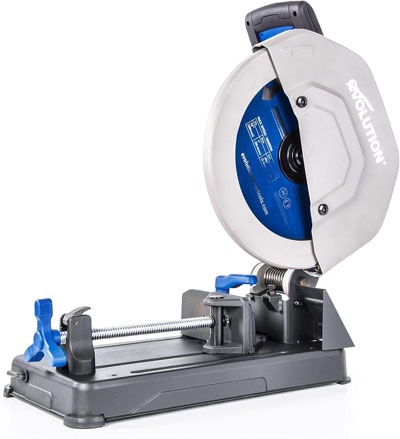 As we mentioned, this dry-cut saw leaves metal cool to the touch with no burrs. The smooth finish means you can switch to welding directly after cutting.
Moreover, the powerful 15-amp motor means you can cut a wide range of materials from aluminum to steel. The options include rebar, steel plate, square tube, round tube, and much more.
This model comes with a 14-inch tungsten carbide-tipped blade for mild steel cuts. However, Evolution also offers color-coded specialty blades for cutting specific materials like mild, thin, and stainless steel or aluminum. The Allen wrench for blade changes and fence adjustments is stored in the saw's base.
All the adjustments are quick and easy, starting with the locking pin that releases the head to raise the blade.
Next, there is a hand-adjustable cast-iron vise that clamps the workpiece to the fence. It comes with a removable block for securing round or rectangular stock.
The Evolution S355CPSL offers up to 5-1/8-inch cuts at 90° in round tubes or 4-3/4 inches in square tubing. What's more, the fence miters up to 45° for angle cuts. All the user has to do is release the knob and pivot the fence to one of the presets where the locking pins click into place.
We appreciate the ambidextrous trigger for use by either hand. There's also a chip deflector but no collection drawer like the larger saw below.
Even with a pressed steel base, this model weighs 51 pounds, slightly less than the S380CPS. It has a rugged carrying handle on top.
Lastly, Evolution offers a 3-year warranty on both saws.
Evolution S380CPS
Why might someone choose the S380CPS 15-inch saw over the 355CPSL? One reason is the capacity. Let's compare the features of both models.
Features of the Evolution S380CPS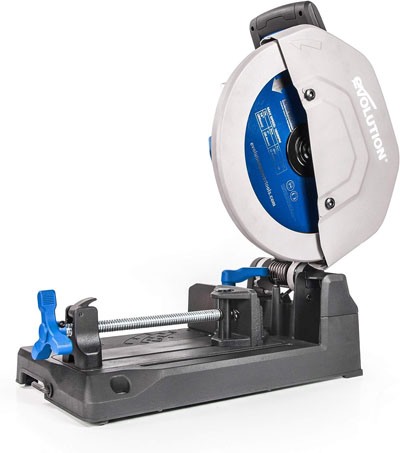 The S380CPS has a larger cutting capacity for each stock type. It's ready to go straight out of the box with a 15-inch tungsten carbide-tipped blade for cutting steel.
For example, it can handle up to 5-7/8-inch round tubing and 5 x 5-inch square tubes. When mitered to 45°, it can cut up to 5-inch diameter round tubes and 3½-inch square tubes.
What's more, this model is compatible with the 14-inch blades used on the S355CPSL.
However, there's a cost to being able to cut bigger material. Even with a die-cast aluminum base, this model weighs slightly more than a smaller model. But there's a convenient carrying handle on top, so it's still quite portable.
Moreover, this model features a chip collection drawer for fast cleanup.
Otherwise, both saws are equally powerful and feature identical adjustment options and controls. Plus, there's a 3-year warranty and a US-based customer service team to answer questions.
Cons of the Evolution S355CPSL and S380CPS
If there were one thing that Evolution could do better, it would be to include a blade brake. It takes several seconds for the blade to stop spinning when the trigger is released. But we like how the blade guard effortlessly slips into place.
Also, on the S380CPS, we wish the chip tray was easier to access. It loads from the rear, making it awkward to pull out if the saw is close to a wall.
Recommendation
If you're in the market for a metal-cutting chop saw, the Evolution S355CPSL and the S380CPS offer excellent benefits. Both are precise, powerful, and straightforward for quick and efficient workflow. They are covered by a 3-year warranty and come ready to cut with minimal setup and a good blade.
If you want maximum versatility and capacity, we suggest the S380CPS. It's compatible with both 14-inch and 15-inch blades and can cut larger stock. Furthermore, it has a chip-collection drawer for faster cleanup.
Click here to purchase Evolution S355CPSL on Amazon.com
Click here to purchase Evolution S380CPS on Amazon.com