The Next Wave Shark SD110 CNC Machine promises to be a revolutionary tool with limitless creative possibilities for enthusiasts, artists, and professionals. This desktop wonder can realize precise cuts and intricate designs for woodworkers and help develop prototypes for engineers. Moreover, it's ideal for small businesses who want to speed up their production process. Let's explore its strengths and limitations to see if it suits your needs.
Features of the Next Wave Shark SD110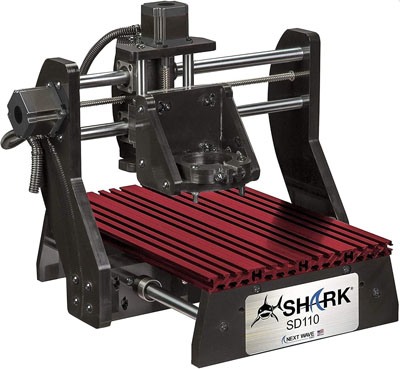 The Shark SD110 is designed for engraving and carving projects made of plastic, soft metal, and wood. It comes fully assembled and ready to use.
What's in the box
The machine comes with a color touchscreen pendant for standalone use. It's also compatible with Windows computers.
The package includes the CNC machine, carbide V-bit, hold-down clamps, Vetric VCarve design software and 3D art sample pack, and the Ready2Control application for Windows.
Compatibility
You'll need a USB 2.0 port to import project files or control the device
by PC. Plus, you'll need to install the accompanying software to develop projects and run the CNC machine.
Nevertheless, you don't need a Windows computer to operate the Shark SD110. You can upload files with a pen drive and use the touchscreen to control it.
Out of the box, it's compatible with DeWalt, Porter Cable, and Bosch palm routers. Other brands may also work with the Shark SD110. Contact Wave customer service for more information.
Furthermore, the machine has an InterLoc T-Slot for flexibility in clamping, depending on the router and the project.
Structure
The slotted aluminum table on this compact device measures 12 x 18 inches. However, the XYZ travel isn't as extensive as the table. It's restricted to 12 x 13 x 3 inches. On the bright side, the Virtual Zero Unlimited feature adjusts designs to fit and overcomes imperfections (like knots) in workpieces. What's more, this CNC machine can travel an inch past the front of the bed for cutting joints.
Additional benefits
Lastly, the Shark SD110 is made in the USA and is covered by a 2-year factory warranty. The manufacturer offers compatible accessories like a digitizing probe and a laser module to enhance the machine's performance.
Cons of the Shark SD110
Although the Shark SD110 is sturdy, we were disappointed by the plastic gantry. Competitor models often have an aluminum gantry instead.
Moreover, there's a learning curve to operating a CNC machine. It requires learning how to set up, calibrate, and run the machine as well as designing projects.
Although the Shark SD110 is versatile, it cannot handle dense or specialized materials. And it's also a desktop model, which limits the project size.
Recommendation
A CNC machine like the Shark SD110 is ideal if you'd like to engrave and carve reproducible designs. It's suitable for woodworkers, prototypers, engineers, artists, and hobbyists. Also, the included software is convenient for those with a Windows PC.
Once you've ensured that its compact size fits your needs, the device can pay for itself as it saves you time and labor.
Click here to purchase Next Wave Shark SD110 CNC Machine on Amazon.com