Crudely put, Milling is the process of cutting or shaping meatal by way of a rotating tool. Once upon a time, milling machines were huge monstrosities that you'd only really find in professional workshops or those with rich owners. Nowadays, a milling machine can be picked up for less than you'd think.
So, if you are in the market for a new milling machine that's tough, reliable, and offers great precision, be sure to check out the WEN 33013.
WEN 33013 Variable Speed Single Phase Compact Benchtop Milling Machine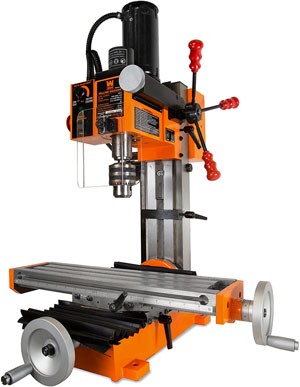 With a variable speed that ranges from 100 to 1100 rpm on the low setting and 100 to 2500 rpm on the high setting, this milling machine certainly packs a punch and will machine your metal, wood, or plastic in no time at all.
It's a pretty versatile piece of equipment that's capable of carrying out a wide number of tasks. As well as being able to bore through even the toughest of metals, the WEN 33013 can also assist in creating flat surfaces, angled edges, pockets, and more.
Thanks to the R8 Taper, there's a drilling capacity of 1/2", an end mill capacity of 5/8", and a face mill capacity of 1-1/8". And both the cutter head and column can be beveled 45 degrees both left and right giving users maximum flexibility. To further add to that, the solid 18-1/8" x 4-3/4" table moves 11-13/16" along the X-axis and 5-1/8" along the Y-axis.
Measuring in at 23.2" x 22" x 29.5", it's not the bulkiest tool you're likely to own, but it is heavy, so once you've found a home for it, you're not going to want to move it. Thanks to the machine's bench top design you should have no worries about securing it in place via the pre-drilled bolt holes on the heavy-duty base.
Also included with the milling machine you get a pre-installed 1/32" – 1/2" drill chuck for more precise drilling, an R8 spindle taper, accurate measurement indicators, and a transparent chuck guard and emergency stop button in which to help keep you safe.
And if all of that's not enough to convince you, WEN also provide a two-year warranty with the machine for added peace of mind.
More features
Fitted with a 4.5-amp motor
Great customer service
13-inch swing
Recommendation
There's no doubt about it the Wen 33013 is not designed for those without any prior knowledge of this kind of machinery. But for all you seasoned pros out there looking for a decent desktop milling machine to add to your workshop, it's a fantastic piece of kit.Not only is it heavy duty and stable, it's also super-efficient and accurate too.
As far as desktop milling machines go, it's adequately priced and you can also be safe knowing that it's got a 2-year guarantee backing it. So, before you delve in to make your next purchase be sure to check out all the Wen 33013 has to offer. You're unlikely to be disappointed.