The introduction of milling machines came many, many years ago when the need for a way to machine metal, wood and other materials on a widespread basis arose. And while to begin with these machines were usually only found in larger workshops or garages, now, thanks to modern technology, they're available as desktop tools, suitable for use at home.
And one very popular desktop milling machine that's available right now is the Jet JMD 18.
JET JMD-18 230-Volt 1 Phase Milling/Drilling Machine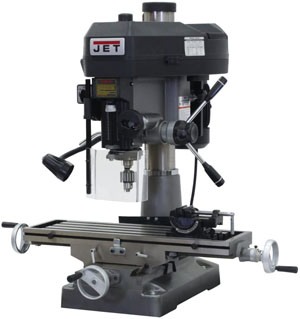 Fit for both entry-level DIYers and professionals, the Jet JMD 18 is a machine that's easy to use yet offers a great deal of functionality.
The first thing to note is that it has quite a powerful 2HP, 230-Volt motor that's capable of producing a range of 12 spindle speeds ranging from 15 to 3000 RPM.
Capable of working with a wide range of materials including wood, metal, and even ceramic tiles, it offers efficient and accurate drilling every time. The drilling capacity on this drilling and milling machine is 1-1/4" while it has a 15-7/8" swing capacity.The 360-degree swiveling head ensures adequate flexibility while drilling or milling, while the cast iron column tapered heavy-duty roller bearing provides further support and stability.
There are no concerns about durability with this beast of a machine. The solid metal worktable measures in at 9.5" x 31.75", so is quite big in size. And, its substantial 400-pound weight capacity enables you to work on those bigger and heavier projects without any worries about the machine moving around.
There's a hinged belt cover which enables a fast speed change, minimize the chance of any potential delay when wanting to shift to a different speed. It also features a positive quick-stop knob along with easy-to-read gauges and dials.
And it comes with a 2-year warranty should you experience any problems. If you do want to get a stand for the JMD-18 opposed to having it sit on a workbench, these are readily available also, at a pretty reasonable price.
More Features of the Jet JMD 18
Drill Press angle vise for better securing of the material
Heavy-duty built-in power downfeed and manual fine feed system
Equipped with an adjustable Carbide facemill
Integrated work lamp
Recommendation
Overall, the Jet JMD-18 230-Volt Milling/Drilling Machine is a pretty decent machine that's suitable for both novice and professional users. It's got all the features and functions you could want from a milling and drilling machine, plus some others you'd only expect to see in an industrial type machine. The quality of the Jet JMD-18 is also very good, offering you a great deal of stability while at work. And in terms of versatility, it can do pretty much anything you throw at it (within reason).
There's much to set up, and not much to learn with this machine either, regardless of your skill set already. And in terms of price, it's very reasonable considering all that you get. So, if you're looking for a reliable milling and drilling machine that works well and won't break the bank, this may be the tool for you.