Technology advances at a phenomenally fast rate, with a new ideas and innovation popping out all over the place. One such innovation that's really taken off in the past decade is 3D printing. Up until a few years ago, 3D printing was something that could only ever be carried out in a laboratory of some kind with a ginormous, inefficient machine. Now, it can be done from the comfort of your own home, with a very user-friendly machine. All you need to decide is what's the best model for you.
Anycubic Photon 3D Printer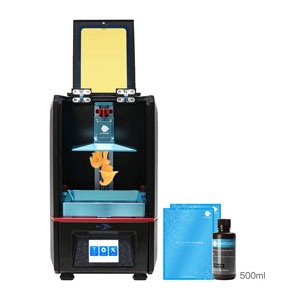 If you're looking for an entry level machine in which to start your journey into the world of 3D printing, then the Anycubic Photon 3D Printer is a good place to start.
Set up is simple. It already comes pre-assembled, so all you need to do to get it to work after that is install and level the build plate, then hook up the resin vat. And as far as 3D printers go, it's also pretty easy to use too thanks to its simple and straightforward 2.8" touchscreen interface.
Measuring in at just 220mm x 200mm x 400mm, and with a printing volume of just 115mm x 65mm x 155mm, it may not be the biggest accommodating 3D printer out there, but it's still provides enough room to complete a variety of smaller projects.The benefit of not being very big is that it won't take up too much room on your desktop.
And in terms of quality, the Anycubic Photon 3D Printer is capable of producing some of the highest resolution prints I've seen from a machine of this caliber.
Anycubic Photon S 3D Printer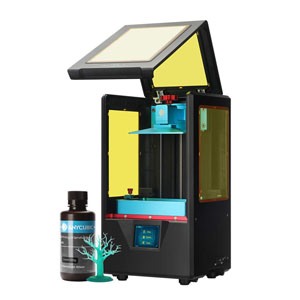 The Anycubic Photon S 3D Printer is an excellent upgrade to the Photon. Not only is it faster than its predecessor, but it functions more smoothly too.
As with before, set up is quick and pain-free, taking less than 5 minutes to unpack and assemble. The only thing that takes a little extra time is the calibrating of the build platform. But the instructions included with the printer are pretty good and easy to follow, so you shouldn't have any problems here.
The first upgrade to mention then is the speed. While the original Photon is capable of a maximum print speed of 10mm/h, the upgraded model can achieve 20mm/h. It also features an upgraded UV light source to help improve print quality even further.
Another big change that's been made is the new dual linear rail design which improves the stability of the printer while at work. The touchscreen has also been upgraded in this model, allowing even better control than what the Photon has to offer.
In terms of size, both the machine itself and the print volume are exactly the same in both models.
Recommendations
Offering a high print quality at a low price, the Anycubic Photon 3D Printer is great for people of all skill levels who are wanting to develop their own products from home.If this is to be your first 3D printer, then it's a great place to start as the functions are all really easy to use and it doesn't take up too much room.
However, if you're looking for something with a little more to offer and don't mind spending a little extra to get it, then the Anycubic Photon S 3D Printer may be more suitable. The actual size of the printer and its printing space may still be the same, but if you're looking at it as an upgrade to the original Photon 3D printer it's not.
The Anycubic Photon S surpasses its predecessor in many ways including both speed and print quality. But it took a whole new design overhaul in which to do it. That being said, the proof is in the end results, and if the new upgraded model performs better and doesn't cost a great deal more, then perhaps the decision has already been made.