Now, anyone can work with an industrial-grade CNC machine at home. The FoxAlien Masuter Pro is made for enthusiasts and small businesses that want to cut, carve, and engrave a variety of materials. It's efficient and speedy, making it ideal for intricate designs that need to be repeated identically.
Moreover, the upgraded features of this machine make it even more desirable than the prior model. Let's review its benefits to see if this is the best CNC router machine for you.
Features of the FoxAlien Masuter Pro
This CNC router scales down the size of bulky industrial CNC machines to make laser carving technology accessible to everyone.
Versatile and widely compatible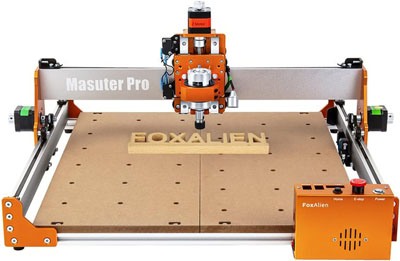 This versatile machine is suitable for working with mild metal, acrylic, MDF, wood, and nylon. It has a spacious engraving area of 15.75 inches square with a z-axis height of 2.36 inches.
Moreover, it has two spindle clamps for enhanced compatibility. For example, the 52mm clamp supports the 60 W and 300 W spindles, plus the FoxAlien laser module (sold separately).
Next, the 65mm clamp is designed for a 1.5KW spindle or a 65mm palm router. Plus, it's possible to use a 69mm spindle (also sold separately) with the Masuter Pro.
As for the software, it runs on all major platforms like MacOS, Linux, and Windows XP through 11. And, unlike some industrial CNC machines, it's not a power hog. It only requires 12V/5A to run.
Stable and accurate
This upgraded version of the Masuter Pro is all-aluminum construction. The X and Y axes are belt-driven. Meanwhile, it has tongue and groove linear rails (instead of circular optical rails with screws) on the z-axis. There's also a light mounted on the z-axis to monitor the work in progress.
Furthermore, each NEMA 17 stepper motor has knobs for adjusting them by hand. This is potentially a serious timesaver compared to calibrating with software.
These characteristics improve its accuracy for flawless results. They also give it an overall feeling of durability and stability.
Straightforward controls
The new dust-proof controller box design places the home and emergency stop buttons in convenient locations. It saves time and makes the machine safer to run.
Effortless setup
Lastly, the Masuter Pro arrives with all the wires attached and the main parts assembled. After unpacking, it only takes about 15 minutes to finish the setup. The most complicated part may be installing the necessary software.
Additional information
FoxAlien offers the necessary drivers and programs to operate the CNC machine. These include Candle and UGS. It's compatible with other GRBL software, too.
Recommendation
If you're engraving or cutting intricate designs that need to be repeated, you can't beat a CNC router. It's perfect for complex geometries that would be difficult to do by hand. It's also suitable for high production demands. Fortunately, the FoxAlien Masuter Pro is able to meet these needs and much more. The upgraded machine is more accurate, more stable, and easier to use than the prior version. It's easy to set up and adjust. Therefore, it's recommended if you're searching for a professional-grade CNC machine for home use.
Click here to FoxAlien Masuter Pro on Amazon.com