Singer has long been a name in the sewing business. It is associated with dependability, durability, and fine quality. With the 44S and 64S, the company did not disappoint. These sewing machines deliver a powerful punch in terms of ruggedness, versatility, and control. We'll compare them based on stitches, construction, and customizability before making our recommendation.
Singer 44S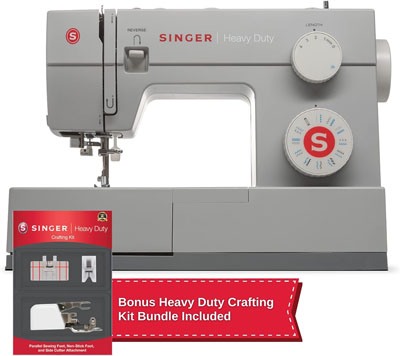 The Singer 44S is a heavy-duty sewing machine built to do all the tough jobs you have in mind. It comes with 23 built-in stitches that expand to 97 different stitch applications. You can do everything from basic sewing to the most intricate, decorative stitches.
With the stitch selector dial, you can easily select which stitch you'd like to use. Simply turn the knob to the desired setting, and you're ready to go. In addition to changing stitch types, you can adjust the width from left to right, making it narrower or wider up to 6 mm. The space between stitches can also be adjusted, making this a truly versatile machine. Along with those features, you'll have access to a one-step buttonhole, making sewing buttons a breeze.
If you have experience sewing, you understand the variations in materials. Having an adjustable foot pedal is essential. The Singer 44S sewing machine can stitch at speeds up to 1100 stitches per minute. You have control to adjust the speed with the foot pedal, ensuring your most delicate fabrics are not damaged during the process. For heavy-duty fabrics, you can increase the speed.
The Singer 44S takes the stress out of sewing. It features a top drop-in bobbin for easy threading, taking the old struggle out of using a sewing machine. In addition, it has a built-in needle threader, so you don't have to strain to see the needle hole.
Among other adjustments is the ability to drop feed. You can lower the feed teeth, allowing you to sew buttons or free-motion sewing. This is an ideal perk to have if you're a quilter.
With this sewing machine's heavy-duty frame, you don't have to worry about flimsy craftsmanship like you do with other companies' products. The Singer 44S is built to last. At the same time, it's designed to be gentle on your fabrics with its stainless steel bed plate.
Singer 64S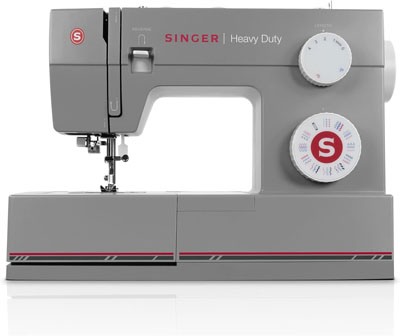 The Singer 64S is a robust piece of equipment. It's constructed of durable, dependable metal that won't let you down.
While similar in many features to its predecessor, the Singer 44S, the Singer 64S has some unique selling points. Both models feature an easy selection stitch knob, built-in threader, and drop-in bobbin. The Singer 64S goes a step further in several categories. It features 32 built-in stitches with 110 stitch applications, making it more versatile than the Singer 44S.
With the smooth construction of the bed plate and the adjustable foot presser, you'll never have to worry about damaging fabrics again. Instead, you're in full control over what happens with every stitch. Use a slow speed for your delicates, or ramp it up to 1100 stitches per minute for those hard-to-work fabrics.
The Singer 64S has a large extension table to assist you with bigger projects, including quilts. It also has an extra high presser foot lifter to assist with the thickest fabrics.
Our Recommendation
The Singer 44S and 64S are truly remarkable sewing machines. They offer excellent benefits that will certainly show in any sewing project. The Singer 44S is the more basic option of the two and is geared toward being user-friendly. We recommend this sewing machine for those just starting out to more advanced sewers.
The Singer 64S is slightly more advanced than the 44S. With more stitches and stitch applications, this model would benefit more advanced sewers.
Click here to purchase SINGER 44S on Amazon.com
Click here to purchase SINGER 64S on Amazon.com