Time to start the hunt for a shiny new machine for your workshop? The task can be daunting, whether you look in person at a home improvement store or online through a warehouse or database service. There are so many tools to choose from. Even if you have narrowed it down to a smaller pool of miter saws – How can you know what the perfect product is for you?
Unfortunately, it can be difficult to try out these kinds of larger products before you actually purchase. We have put together an overview of one of the latest miter saws so that you can collect details and get a better idea of whether or not it's right for you.
The SKIL 3821-01 12-inch Quick Mount Compound Miter Saw is one of the best in its class, with a new laser cutting guide to help direct your work. It is efficient, effective, and safe. Let's look at some more of the specific features of the SKIL.
Product Features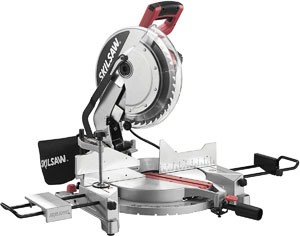 The first element of this machine that grabs the most attention is the laser light cutting guide. Accuracy and speed instantly increase when you have the guidance of a laser to help take away any guessing of cut placement. 4500 RPM ensures a solid, smooth cut every time, whether you're putting in a new floor or cutting drywall.
While this particular model does not come with a stand, but the quick mount concept means that it can attach to several different stands, purchased separately. For the best advice for which stand to get to go with your SKIL, reach out to their customer service experts.
This SKIL is quick and simple to set up right out of the box.For anyone who wants to skip the hours of set up of some other similar saws, this could be the perfect product for you. It weighs in at under 50 pounds – this may seem light for something that can cut through so much, but it really just makes a powerful machine even more versatile and portable, while the heavy-duty blade maintains the same level of performance as a much heavier saw. If you decide to purchase a separate portable stand, the machine can be taken from project to project with ease. It is a corded electric device, packing 120 volts of power into the project.
More Features
Most reviews online are most excited about the laser light guidance, noting that it speeds up every building project and eliminates lots of wasted time from mistakes. 45 degree angles are accurate, and this machine keeps the measurements exact.
Whenever there are any questions about the product or how to best use it, the SKIL customer service line has always been very responsive and helpful. Reaching out to them on the phone or online is the best way to get assistance or any warranty coverage information after your purchase.
Consumers use this particular saw mostly in flooring projects, with many mentioning cutting hardwood floors for an entire room. The possibilities are endless with the SKIL 3821-02 Quick Mount Compound Miter Saw – what will you create?