With all of the new HGTV shows flooding family televisions lately, the need for home improvement tools has skyrocketed. When you decide to do it yourself, you don't want just any tool helping you create the perfect table, chair, or desk, you want the best in the market. Outside of home improvement ventures, construction companies across the globe are looking for ways to lower costs and increase productivity. What is the perfect product to help you with your next building project? How can you be best prepared to tackle your deck, your kitchen, and your bathroom? Where can your company find great products to minimize error and increase production?
Delta has developed a brand new miter saw designed for a variety of uses in many different contexts of construction. The Delta 26-2240 miter saw is a highly rated, frequently reviewed construction tool. It comes in two blade sizes, the 10-inch and 12-inch. Here, we will look into what this miter saw can do so that you can make the best, most informed decision about whether it is the right product for you and your next project.
Product Features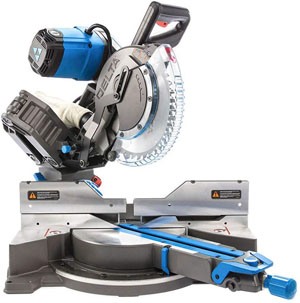 The dual bevel blade is 45 left / 45 right and has a front bevel release. The ip-down fence design keeps users safe while they move quickly through their work. Military-grade aluminum increases durability and longevity of the blade, so you will not have to worry about how long the product will last. If you have had difficulty with the accuracy and smoothness of miter saws in the past, you'll be impressed by the heavy-duty bearings and load arm support bracket.
Even though the saw has the 45 right and left settings automatically, there is an override switch that makes even more angle options possible. You have a crown-molding support area of up to 6.25 inches, plenty of room to start crafting your new baseboards and living room accents. A 15.5" cross-cut capacity for the 10-inch and 17.5" capacity for the 12-inch saw make the Delta miter saw one of the most versatile in its product category.
One of my favorite features of the 26-2240 is its arm design to help with space concerns. The arm bends to fit up against the wall so your workshop can always stay clean and tidy. As someone who really values the option to make machines and tools more compact, the feature definitely kicks product satisfaction up a notch. Need to transport the machine to a site? No problem! The design can be easily moved from place to place with the folding parts saving space.
More Features
Reviewers expressed incredible satisfaction with the ease of use of the Delta Cruzer miter saw, stating that they were happy to trade in older, slower, less effective saws for the newest technology in building equipment. The average time for the brake to stop the machine was around 2.5 seconds, so it is definitely a safe option. Users recommend this miter saw for its easy glide cuts, creating the accurate, precise results you want from your machine every time.
If anything falls short of your expectations, the product comes with a full 5-year warranty, just like all Delta products. With this guarantee, you can rest easy knowing that you're being supported and cared for as a customer.