3D printing is an exciting process, taking those digital models and creating a physical object of your choice.
Swiftly gaining in popularity, more people are now able to experience 3D printing for themselves, with a wide variety of these products available for purchasing online.
Most importantly, these specific models can provide some of the best print results to rival that of the more professional and expensive industry style models!
Here we compare two of the most popular 3D printers, that of the FLSUN Q5 and the FLSUN QQ-S, offering you our professional recommendation.
FLSUN Q5 Delta 3D Printer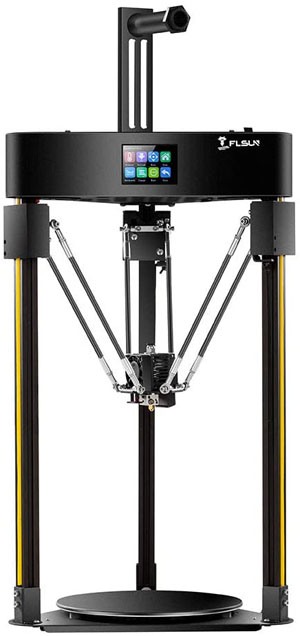 An immensely popular model with many 3D printer users and a low maintenance product, the FLSUN Q5 model works well for designers and those looking for some of the most high-quality print results.
This is atrustworthy machine type that offers an easy to access interface. The TFT touch screen of the Q5 displays full color, multi-languages, and is user friendly.
This auto-leveling model boasts a lattice platform and has strong adhesion, making this a most durable choice, but one that can also be removed with ease.
With a power breaking point function, the FLSUN Q5 Delta 3D printer is highly intelligent and will instantly save your breakpoint should a power outage occur during printing.
With an emphasis on ensuring quality remains consistent throughout use, FLSUN is a thoroughly respected manufacturer in the 3D print world. Therefore, this ensures this stunning looking machine remains one of the most reliable for many years to come.
Features:
200 X 200 mm printingsize
Resume printing function
Auto-leveling system
TFT touch screen
Latticeplatform
Heats of up to 110℃
Modern looking machine
Long-lasting product
Produces consistent results
User-friendly printer
Intelligent programming
Simple to assemble and operate
FLSUN QQ-S Delta 3D Printer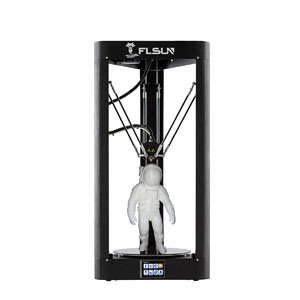 Yet another fantastic FLSUN product, this time it is the QQ-S model.
The QQ-S 3D printer offers a larger printing size area of 225 x 360 mm. It is therefore considered more accessible to those looking for larger surface areas alongside high-speed printing services.
Comprised of an all-metal structure, this modern-looking model is sharp and precise in its physical features. Ultimately, this incredible use of construction ensures the QQ-S is a more durable and, therefore, stable 3D printer.
Allowing for increased overall printing precision, FLSUN believes this model is their easiest to pre-assemble.
Featuring a simple to access and use touch screen, there is also a practical power off continue function. This means that should the power go off; you can carry on with your printing task.
Claimed to be extremely quiet in operation, the titan extruder and use of auto-leveling here further ensures that this is an easy to use machine. The QQ-S is also a printer that delivers on some of the most professional of results all-round.
Features:
255 x 360 mm printing size
Reduced noise level below 50 dB
New auto-leveling system
Pre-assembled model
Lattice glass platform
High printing speeds
Heats of up to 100℃
Power off continue function
Durable all-metal structure
Titan extruder
No-fuss set up and continued operation process
Recommendation
Both the FLSUN Q5 and the QQ-S offer some of the most impressive precision 3D printing functions we've seen on the market. Therefore, when it comes to selecting that better of the two models here, it's a very close one to call!
However, while we believe that both are worthy contenders for best quality 3D printers, it must be the FLSUN Q5 Delta 3D Printer that gets our vote here.
The Q5 just edges ahead here on the selection of features it provides as standard.
With an increased heating capacity of 110℃, this bypasses that of the QQ-S model. Though both models require minimal assembling, it's the Q5 that offers a greater self-leveling bed construction, which ensures stability throughout.
In conclusion, the Q5 is the perfect model choice for both amateurs and professionals and delivers impressive results every time.