The world of 3D printing is a great place to indulge and let your creativity run wild. There's not much you can't produce with one of these machines, providing a) you can design it and b) the build plate is big enough to contain it. While they used to be products that only those with a serious amount of cash could get their hands on, nowadays, they can be picked up for very little money.
Panowin F1 3-Axis 3D Printer Kit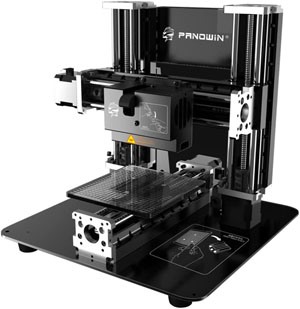 The Panowin F1 3D Printer is an entry-level 3D printer that's designed to be used within a home, office, or classroom type setting.
It's very easy to use and is suitable for just about anyone. With the help of the enclosed manual assembly of it's pretty simple and can be done in just 10 steps.Which is perfect really, as less set up time, means more time to print.
In terms of the printer's build structure, it's very well made. The main body was designed by a team of structural engineers and made using high-quality aluminum alloy. So, one thing you can be sure of, is this printer is one stable piece of kit that was built to last. It has a relatively small print volume of just 120mm x 125mm x 125mm. But then it's not a professional level machine, so that's kind of to be expected. However, the maximum printing speed on the Panowin F1 is a speedy 120mm/s, which is pretty quick for a machine of this size and budget.
When it comes to functioning, again, there are no complaints. However, it does have one thing that's a little different to most other 3D printers out there, and that's the industrial-level screw slider in place of a traditional belt-rail guide system.
In terms of the quality of the finished product, this is exceptionally good for a machine of this caliber. While it is a PLA filament machine only, it can print at a resolution of 0.1mm and with a thickness of 0.05mm, offering high quality and fantastic precision.
Italso features a turbo-fan cooling extruder which feeds the material smoothly and quickly. And, it's very competitively priced.
More Features of the Panowin F1 3D Printer Kit
Works with Pango software
Nozzle diameter: 0.4mm
Filament diameter: 0.4mm
Filament type: PLA
Recommendation
The Panowin F1 3-Axis 3D Printer Kit is a great model to start with for anyone looking to get involved in this trend. It's easy to set up, easy to use, and it's affordable. The quality of the print is very good for a machine of this class, as is the print speed. And being made by a bunch of engineers, you can pretty safe knowing you've got one solid machine to work with.
While it does lack some of the more high-tech features that are seen in some models, you pay more for those models. With the Panowin F1, it's a budget machine that's good at what it does. And that's all anyone could really want.
All-in-all, it's an excellent buy and one that is highly recommendable to anyone with an interest in 3D printing.