The world of 3D printing can be very exciting, provided you have the right tools to back you up. And while 3D printers used to be something only high-tech companies and engineers had to use, nowadays, you find them all over the place including in schools, offices, and many homes.
Two popular models out at the moment are the Qidi Tech Shadow 5.5 S and the Elegoo Mars. But which is the best option for you? Keep reading as we unveil what each has to offer.
Qidi Tech Shadow 5.5 S 3D Printer
The first thing you'll probably notice upon packing this machine is that adorned in a combination of red and gold, making it a very ornate looking 3D printer. But don't let that distract you too much from what's going on inside this desktop 3D printer. The Qidi Tech Shadow is an MSLA (Mask Stereo lithography) 3D printer. This is a method of 3D printing that uses a UV light source to project an image of each layer onto an LCD screen. It's competitively priced and is very easy to use.
With a build volume of: 115mm(L) x 65mm(W) x 150mm(H), the Qidi Tech Shadow 5.5 S is an adequate size to print a good range of items. And it features a 3.5" color thin film transistor (TFT) touchscreen that allows for easy and fast navigation. In terms of print quality, the detail is exceptional, even on very small pieces. It has a layer resolution of 0.001mm to 0.2mm, and there are no obvious distortions, creating an end product that has a glass-smooth finish.
The Qidi Tech Shadow 5.5 S has a modest print speed of 20 mm/h and is very quiet while in use. Another bonus is that it comes pre-assembled and the enclosed operating instructions are very comprehensive, making it a great machine for anyone new to 3D printing. And finally, the firmware used by the Qidi Tech Shadow 5.5 S is ChiTu. Paired with ChiTu Box for file presentation, the two provide for an easy and hassle-free printing experience.
So, now you know what the Qidi Tech Shadow 5.5 S has to offer let's see how the Elegoo mars 3D Printer measures up.
Elegoo Mars 3D Printer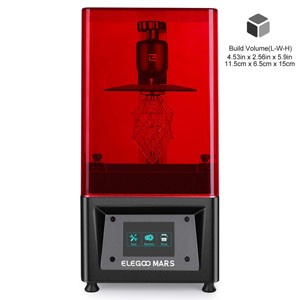 At first glance of the machine, you might find yourself mistaking the Elegoo Mars for the Qidi Tech Shadow 5.5 S, as they are that similar in looks. Both feature the same red cover, and both are very similar in size. However, the build volume on this model is slightly bigger, measuring in at 120mm(L) x 68mm(W) x 155mm(H).
The Elegoo Mars is also a UV LCD 3D printer that uses a 3.5" LCD touch screen in which to control it. In addition to being intuitive in its design, it's also simple to use with all the basic setting configurations within easy access. But, because it's pressure-sensitive some people prefer to wear gloves to avoid buttons being pushed unnecessarily.
When it comes to print quality, it's nothing short of amazing. With a resolution of 0.047mm, the precision of the print is top notch and far exceeds that of the Shadow 5.5 S. And with a top print speed of 22.5mm/h it's slightly faster too.
It's recommended you use the same ChiTu Box for slicing prints on the Mars. Using this software, you can see your prints come alive in front of you before actually going ahead. The program will also provide you with an estimated print time, which is surprisingly accurate. While slicers from third party providers are ok to use, you will need to take an extra step and create a custom profile for the printer.
The only real downside is that unlike the Shadow 5.5 S, there is some assembly required.
Recommendation
If either model is chosen as your first machine to start you off in the world of 3D printing, it's unlikely you'll be disappointed. Both models look fantastic, are very well made, and both are excellent value for money.
However, when it comes to print quality, the Elegoo Mars 3D printer is the highflyer of the two, producing a finished print with better accuracy and precision than many high-end models offer. It's also has a slightly bigger build volume and is slightly quicker when it comes to printing.
So, if you're looking for a budget 3D printer and want the best quality for your money the Elegoo Mars is the way to go.