The Skilsaw company has been in existence since 1924 offering a range of cutting technology products at affordable prices. In fact, it was the first brand ever to produce a portable circular saw. Now, it's one of the leading names in power tools worldwide.
While the company has quite an extensive range of saws, one of the most popular models out currently is the Skilsaw SPT88-01, and here we're going to look at it in a little more detail.
SKILSAW SPT88-01 12" Worm Drive Miter Saw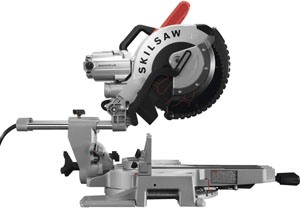 A powerful and accurate miter saw that's both strong and versatile, the Skilsaw SPT88-01 is a true force to be reckoned with.
Covering an impressive 4 x 14 cross-cut at a 90-degree angle, this 12" dual bevel sliding compound miter saw offers excellent cutting power with very little effort. The motor responsible for this force is one of the company's own 15-amp Dual Field motors. These motors have been designed specifically to run cooler, reducing the risk of overheating.
One of this saw's biggest selling points is that it has a worm drive which helps to deliver greater power and durability. Thanks to that motor, the blade on this saw spins at an eye-watering 4000 RPM which provides enough might to cut through just about anything without any hesitation. And, the results are amazing. Each and every time, you get a super smooth and accurate cut.
The Skilsaw SPT88-01 also features a clear, easy-to-read bevel gauge with bevel stops that are part of a sliding step system. And, with a bevel lock that sits firmly in the back.
Weighing just 51 pounds, this is actually the lightest of miter saws in the Skilsaw range. In fact, it's one of the lightest amongst its competitors too. And, in terms of sturdiness, it's made using solid sliding rails, so there's hardly any wobbling when in use, even at maximum speed.
There is a little bit of calibration needed when you first pull this miter saw from the box, just to get the optimal angles. But, it's easy enough to adjust and there's a free to download manual on the company website if you do need any help. The Bevel range is 0 to 45 degrees both left and right, while the miter range is 60 degrees to the right and 50 to the left.
More Features of the SKILSAW SPT88-01
Shadow cut line indicator for improved accuracy
5 bevel stops – 0 degrees, 22.5 degrees, 33.9 degrees, 45 degrees, and 48 degrees
Miter stops – 6 left – 0 degrees, 15 degrees, 22.5 degrees, 31.6 degrees, 45 degrees, and 50 degrees; 1 right – 60 degrees
Recommendation
With a 15-amp motor that's capable of running at 4000 RPM, and sturdy components in which to keep your project in place, this miter saw produces quality precise cuts each and every time. It's also easy to use and is pretty reasonably priced. So, if you're in need of a decent miter saw that's powerful, robust, and reliable, the Skilsaw SPT88-01 is a good option for you.