If you are someone who is quite familiar with using power tools, you are more than likely well aware of the fact that Makita tools are some of the best in the industry. Makita is a tried and true company that continuously delivers top of the line tools for the consumer. That is precisely why if you are in the market for purchasing a brand new circular saw, one that you really should take a look at is the Makita XSH08Z. Here we will be reviewing this excellent tool to see if it may just be a good fit for your personal and/or professional needs.
Makita XSH08Z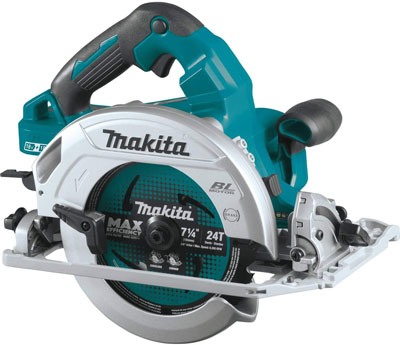 The Makita XSH08Z offers users with convenient battery gage and rafter hook. It has a ton of power and more than adequate cut depth. You can be sure that your cuts are smooth every time and the saw powers through virtually any material you need to get through.The Makita XSH08Z does not have a worm drive, but it operates like it has one. Worm drives are utilized for extended rip cuts because of the extra torque whereas sidewinders are the best for making cross cuts thanks to their lighter weight. While you can certainly compare this one to a sidewinder is most certainly possible, this is an awesome ripping machine. Furthermore, the 9-1/4″ blade provides a deeper cut than the normal 7-1/2″ found in circular saws, which is a huge plus. Adjustments are incredibly easy to make and are also super clear to read, and the motor is incredibly powerful. This Makita circular saw is plain and simply unmatched when put up against the competition. If you are seeking for a super powerful circular saw that is capable of standing up to any challenge, this is the one you most definitely want to take into some serious consideration.
More Features of the Makita XSH08Z
Included Components: 7-1/4″ 24T C.T. Circular Saw Blade (B-61656); Hex Wrench (783204-6); Dust Extracting Attachment (196520-1)
Item Dimensions: 10.59 x 15.95 x 12.72 inches
Power Source: Battery Powered
Voltage: 36 volts
Blade-right sidewinder style
Magnesium guide rail compatible base
Magnesium blade guard and blade cover
6000 RPM
0º – 48º bevel with 45º stop
2-3/8″ maximum cutting depth
11.3 lbs with batteries
Recommendation
All in all, this Makita saw is most definitely a cut above the rest. It is perfect when it comes to being able to simply put your material on a guide and not have to worry about following a line throughout the process of the whole cut. Simply line up the guide, clamp the material down, lock saw onto the track and start working! You do not even have to worry about putting this one on the track; it works even better than any other high-quality circular saw. If you are seeking a circular saw that provides you with a super smooth glide, one that has an easy to see cut line, and an unmatched powerful motor, this one's for you.