If you have been shopping for a new portable band saw that boasts the capability of working with metal, you are in luck. Here, we will be exploring one great option that you may want to take into consideration for your personal and/or profession needs in order to determine if this one will be a good fit. The product we will be reviewing is the Wen 10-Amp 5-Inch Variable Speed Handheld Portable Band Saw (94396), read on to discover more about this excellent band saw.
WEN 94396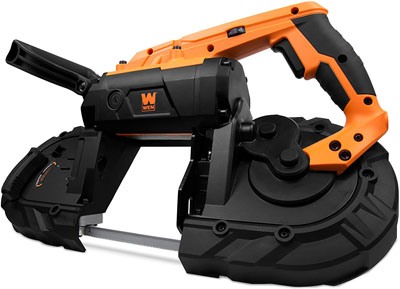 If you are seeking a compact, yet powerful band saw that provides you with high depth capacity, and perhaps you are on a bit of a tight budget, then look no further than the WEN Wen 10-Amp 5-Inch Variable Speed Handheld Portable Band Saw. This one has a 10 amp motor with a cutting capacity of 5". It also gives users the advantage of a nice speed range of 60 to 420 FPM, which covers you on cutting virtually any material that you opt to work with or may potentially encounter on site. The Wen ensures a smooth cut through wood, steel, plastic, or ceramic and it also has a heavy-duty blade guiding system which effectively maintains a smooth, clean cut throughout the course of extended projects.
The WEN is incredibly compact, weighing only 14.5 lbs and it effectively runs at 120V so you can use it with an extension cable or a regular home plug as well. The motor housing is also fused into the frame in order to reduce bulkiness, and it is additionally fitted with power overload protection as well. Thanks to the well designed tough fiber and plastic in the band saws frame construction, the WEN 94396 is perfect to take on the job for those heavy duty projects where the tool may experience a bit of abuse on the job. It also has two rubberized handles with a conveniently adjustable auxiliary handle that aims to help to reduce user fatigue. This WEN also has mounting capability onto a table or benchtop for convenient band saw use, which is very nice for making more complicated cuts.
More Features of the WEN 94396
Motor: 20 amps
Speed: 60-420 feet per minute
Cutting Capacity: 5"x5"
Blade: 10/14 TPI (44-⅞"x1/2")
Weight: 14.5 lbs.
Recommendations
If you are in the market for a portable band saw that delivers overload protection, ensures a cool, and quiet operation (even for extended projects), one that is lightweight, affordable, and built to last, the Wen 10-Amp 5-Inch Variable Speed Handheld Portable Band Saw is going to be a great choice for your personal and professional needs. This one boasts a 20 amp motor, heavy-duty cutting capacity and weighs in at a mere 14.5 lbs. You really can't go wrong with this portable handheld bandsaw. It comes at the right price, is sure to stand up to any challenge you put it through (whether at home or on the job site), and it is incredibly affordable and durable.