If you have found yourself needing a new planer, but just are not quite sure which one is going to be in your best interest to invest in, we have some good news for you. Here, we will be exploring two of Makita's top-rated options of planers that are both cost effective, reliable, and super durable as well. If you are in the boat and just do not quite know which direction you should go, be sure to read on as we explore all of the best features between these two great machines that are backed by the Makita name.
Makita KP0800K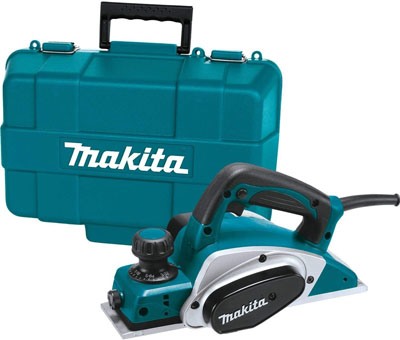 First things first, it is really of no huge surprise why we opted to showcase two of Makita's planers. Makita is a tried and true name brand that really boasts some of the top tools that are available on the market, regardless of the type of actual tool that it is. Simply said, you really can't go wrong with a Makita tool, and that is most certainly the case when it comes to the Makita KP0800K. The Makita KP0800K is a lightweight and super durable planer that boasts a planning depth of between 0-2.5mm. Even though this one boasts a slightly lower amperage and RPM, it still holds up to the challenge and manages to remain a top-performer when put up against the competition. Furthermore, it provides the user with 2 double-edge carbide blade cutter heads and rigid die-cast aluminum housing, as well as all-ball bearing construction to ensure its durability.
It also offers a lock-on button to ensure continuous operation and also a click-stop depth control for easy depth adjustment which ensures accuracy. The Makita KP0800L is a super balanced machine that offers you an aluminum planer drum for both durability and vibration reduction and it gives you a super handy ergonomically designed and rubberized handle which assists in reducing fatigue. It also has a spring-loaded stand to help protect your blades and the high-quality poly-V belt ensures uncompromised durability.
More Features of the Makita KP0800K
Planing Depth: 0-2.5mm
No Load Speed: 17,000rpm
Overall Dimensions: 285mm
Net Weight: 2.6kg
Continuous Rating Input: 620W
Makita KP0810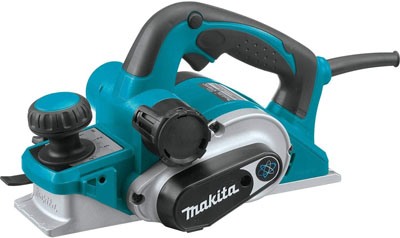 The Makita KP0810 planer provides you with all of the excellent features of Makita KP0800K, but is just slightly less powerful (and I mean slightly). The Makita KP0810 is also an incredibly reliable planer that is sure to stand up to virtually any challenge you opt to put it through on a hobbyist type of scale. If you are a novice user, this is a great planer to opt to buy. It really is the perfect hand planer due to the fact it is not only incredibly easy to use, but it additionally has more than adequate speed and power that allows you to be able to deal with every single project you put it through with ease and a great sense of capability. The Makita KP0810 is well-equipped with a nice 7.5 amp motor that is more than powerful enough to be able to deal with almost any sort of wood, while it can also assist in finishing any task in half the duration of time that it would take to deal with a traditional wood planer. This one offers a great sense of usability, a trustworthy high-performance motor as well as a super durable set of blades which makes it a truly ideal purchase, whether you are a novice user or simply a professional who is seeking a lightweight and super efficient planer for your professional needs.
More Features of the Makita KP0810
Planing Width: 3-1/4″
Planing Depth: 5/32″
No Load Speed: 16,000 RPM
AMPS: (120V): 7.5
Net Weight: 7.2 lbs
Recommendation
Both the Makita KP0800K and the Makita KP0810 are top of the line planers. When it comes to deciding between the two, you need to consider what your planing projects are so that you can best be able to determine the depth and width that you will need. The no load speed is also something to consider as the KP0810 offers 16,000 RPMs, whereby the KP0800K provides you with a slightly more powerful 17,000 RPMs. If you are seeking a planer that provides you with a little bit more power and range, you are going to want to spring for the Makita KP0800K. But, if you really are not looking for too much power and is great for smaller projects, the Makita KP0810 is a great choice.