If you are in the market for a trustworthy, new soldering iron, but really just are not quite sure which one is going to be in your best interest to purchase, you have come to the right place! Here, we will be examining two of the top-rated ones that you may just want to take into consideration. We will be shedding some light on the Weller WE1010NA vs the Hakko FX888D, in order to see which one may be a great choice for you to check out.
In this brief article, we will be comparing and contrasting the Weller WE1010NA and the Hakko FX888D, so that you can make the best choice in making a selection that is going to save you a ton of stress, hassles, and reading countless reviews overall. We will be checking out the features and just what makes these two soldering stations simply a cut-above-the-rest in terms of the competition.
Weller WE1010NA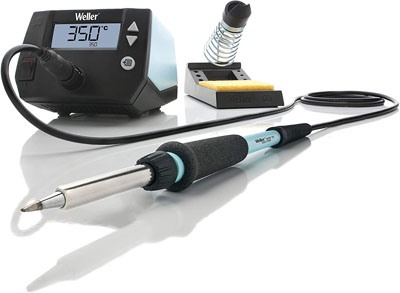 The Weller WE1010NA is a super handy 70-watt digital soldering station, that is upwards of more than 40% when compared to the previous WESD/WES soldering station. The Weller WE1010NA provides you with the opportunity for the iron to heat up significantly more faster, while also providing you with a much faster recovery time as well, not to mention it allows for more stable heat for circuit board repairs. The Weller is super well built and made-up of the highest quality, it also takes up very minimal space on the workbench, which is perfect if you are short on space. With the Weller WE1010NA you will find yourself getting the job done far quicker, and with much greater precision and efficiency overall. The Weller is a super trust-worthy and fast responding soldering overall and you really just can't go wrong with this one.
More Features of the Weller WE1010NA
Dimensions (L x W x H): 5.91″ x 4.92″ x 3.94″
Power: 70W
Power supply (V/ Hz): 120/ 60
Temperature stability: +/- 4⁰F / 2⁰C
Temperature range: 200⁰F – 850⁰F / 100⁰C – 450⁰C
ESD safe: Yes
Hakko FX888D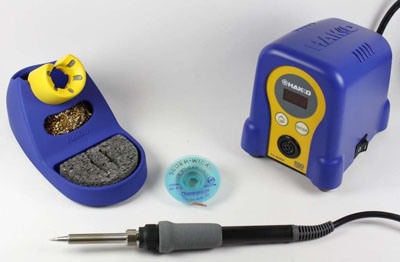 The Hakko FX888D is an updated digital version of the incredibly popular selling, Hakko FX888 soldering station. The Hakko FX888D includes quite a few new features, however, including selectable, usable preset temperatures, password protection, and digital calibration. Both this one and the Weller WE1010NA offer excellent temperature ranges, though this one goes as low as 120 degrees and goes upwards of 899 degrees, which is a bit more than the Weller. The Hakko is also slightly larger in size, but not too tremendously so in terms of taking up too much space overall. The Hakko is an incredibly versatile and powerful soldering station that is sure to stand up to any challenge that you throw its way.
More Features of the Hakko FX888D
Digital Soldering Station ESD Safe version with a 5 ft. Spool of Desoldering Wick
Chemtronics 60-4-5 Soder-Wick No Clean SD Desoldering Braid 0.110″/2mm 5 ft. spool
Adjustable temperature control
Temperature range 120° – 899°F (50° – 480°C)
Digital display shows °F or °C
Item Weight: 4.75 pounds
Product Dimensions: 9.75 x 9.75 x 7.5 inches
Recommendations
Both the Weller WE1010NA and the Hakko FX888D are excellent options that you really should take into consideration all-in-all. They are both made by great companies that boast continuously trustworthy products that are always top-rated and favored by their users. And that in and of itself is something that you should make number one on your list of considerations. Next, both the Weller WE1010NA and the Hakko FX888D are both pretty compact in size, and offer nice temperature ranges, so no matter what exactly it is that you are going to be soldering, you can be sure to get the work done with quickness and a great sense of ease.
When you are looking into purchasing a new soldering station, you need to make sure that you consideration the size of the area that you are planning on working in, who is going to be around when you are working (again, the Hakko offers a passcode feature which prevents unwanted users, including children, from using it when you are not around, it also locks the temperature so that it can't be changed), and also what exactly it is that you are looking to get out of your soldering station as well, as you will want to make sure the the heat range is going to work for your personal and/or professional needs all-in-all.