There are so many different options of 3D printers available on the market today that it can most certainly be a little bit overwhelming as to all of the many options that are out there. If you have found yourself considering investing in a 3D printer for casual use, the two that we have picked out here are two great options that you may want to consider. Regardless of what you are looking to get out of your 3D printer, the Ultimaker 2+ Connect and the Makerbot Replicator+ are two top-rated ones that you should take the time to take a look at.
In this brief product review article, we will be examining these two excellent 3D printer options in order to provide you with a better and more closer look at them both so that you can choose for yourself which one is going to work best for you. We will be comparing and contrasting these two machines, and analyzing their features and specs so that you can be sure you are making the best choice for your personal needs and desires in a 3D printer.
The Ultimaker 2+ Connect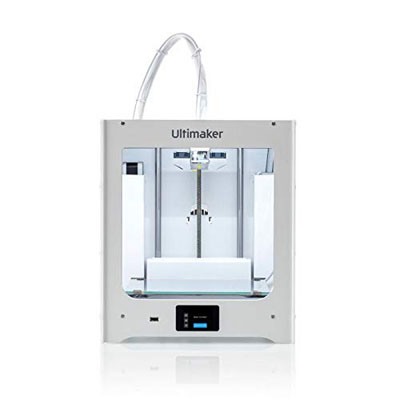 The Ultimaker 2+ Connect provides users with Ultimaker's trusted connected workflow to its super reliable single extrusion Ultimaker 2+ footprint option. The Ultimaker 2+ Connect 3D printer also features a full color 2.4″ touchscreen, a more stiff build-platform, and also with its incredibly useful network connectivity feature, the Ultimaker 2+ Connect can also be installed in a mere matter of minutes and it is incredibly easy to maintain and very user-friendly.
More Features of the Ultimaker 2+
Product Dimensions: 14.06 x 13.46 x 15.28 inches
Weight: 22.7 Pounds
Print Material: ABS or PLA 3mm filament.
Print Area: 9 x 8.85 x 9 inches (23 x 22.5 x 23 cm)
Print Surface: Heated glass.
Layer size: 0.2 mm to 0.02 mm.
Interface: SD Card or USB 2.0-to-computer interface.
The Makerbot Replicator+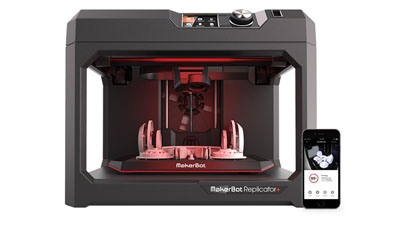 The MakerBot Replicator+ 3D printer is highly engineered and is tested to ensure faster and more reliable printing. The Makerbot Replicator+ prints some of the highest quality concept models significantly easier, faster, and with a larger build volume overall. The Makerbot Replicator+ is a bit different when compared to the Ultimaker 2+ Connect as this one combines efficient workflow tools that are super powerful, and it also streamlines 3D printing for desktop making it perfect for both educators, professionals and even hobbyists as well. It also features a sturdy construction (quite similar to the Ultimaker 2+), as well as a 25% larger build volume, and better overall print adhesion.
More Features of the Makerbot Replicator+
Item's dimensions: 17.4″ W x 20.8″ L x 16.2″H
Weight: 40.4 lbs.
AC Input Power: 100 to 240 VAC, 50 / 60 Hz
Operating Temperature: 60 to 90°F / 15 to 32°C
Storage Temperature: 32 to 100°F / 0 to 37°C
Recommendations
Regardless of the type of 3D printer you are specifically looking at investing in, both the Ultimaker 2+ Connect and the Makerbot Replicator+ are top of the line options that you may just want to consider purchasing. The largest difference between these two 3D printers is the size. The Ultimaker 2+ Connect is a bit smaller in size whereas the Makerbot Replicator+ is larger in size. This is something that you may want to take into consideration when it comes down to the size and the space that you have available in the area where you are planning on keeping your 3D printer. If you have a little bit more space to work with, then the Makerbot Replicator+ is going to work well for you. But, if space is a little more limited, you may want to select the Ultimaker 2+.
You are also going to want to make sure that the 3D printer you are considering is going to not be too little or too much for your personal or professional needs. If you are simply a hobbyist who is looking to just do some projects at home, the Ultimaker 2+ is a great choice. However, if you are a researcher or a profession who is needing something just a little bit more, then you are most certainly going to want to opt for the Makerbot Replicator+. While both of them are awesome choices, you really need to just take the time to really consider what your needs are, what your desires are, and what you are wanting to get out of using your 3D printer. Once you have properly answered those questions, you can better make the right decision for your needs.