Is the Grizzly G0651 worth it? We reviewed this cabinet table saw to see what it offers for professional woodworkers and serious amateurs. Here's a rundown of the best table saw features.
Top features of the Grizzly G0651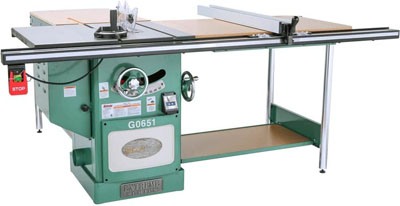 If you've been getting by with a portable table saw, you're missing out on the benefits of using a cabinet table saw. For one, saws like the Grizzly G0651 don't bog down while cutting thick hardwood. They are quieter and vibrate much less, making them pleasant to use hour after hour.
Professional-grade capacity and power
The Grizzly G0651 has a 3 HP single-phase motor with a no-load speed of 4000 RPM. Although it requires 220 V, the starting amperage is 13 A instead of 15 A.
With a 52-inch rip capacity with the extensions on the right side, it can cut a full sheet of plywood in seconds.
Moreover, at 90°, it has a maximum depth of cut up to 3-3/16 inches. Even at 45°, it cuts lumber up to 2-3/16 inches thick.
Sturdy build
The Grizzly G0651 table is precision-ground cast iron. Meanwhile, the steel-framed right and rear extension tables have durable composite-coated surfaces with powder-coated edges. There are additional shelves underneath for tool and lumber storage.
Inside the hinged cabinet, the cast iron trunnion supports for the motor dampen vibration. Outside are metal flywheels and a digital readout to adjust the blade height and tilt. It shows the bevel angle in real-time while the wood is being cut.
On top, the sturdy fence design features all-metal adjustments and locking mechanisms. Moreover, Grizzly includes all the necessary parts like the quick-release riving knife assembly and blade guard, miter gauge, push stick, and a 10-inch 40T blade. However, it also accepts dado blades up to ¾ inches.
Lastly, there is a 4-inch dust port, plus the underside of the blade is encased to capture dust efficiently.
Safety features
We mentioned earlier that the saw starts at a lower amperage to avoid tripping the breakers. The safety features also include a large stop button for emergency shutoff. In the same panel, a magnetic switch keeps the saw from turning back on if the power goes out. And the thermal overload protection turns off the saw if the motor gets too hot.
Cons to consider
Although setup should only take a few hours, the saw weighs over 400 pounds and requires approximately 92 x 75 inches of floor space, or about 8' x 6.25'. Also, note the 220 V requirement.
Furthermore, it's wise to double-check the alignment before use to ensure the table is level and the blade is square.
Additional features
Arbor size: 5/8″
Table height 34-7/8″
Table size with extension 27″ x 75-3/4″
Meets UL and CSA standards
1-year limited warranty
Recommendation
If you have room in your shop, the Grizzly G0651 is an excellent investment. This cabinet table saw is a significant improvement from a portable saw and offers a spacious work area with user-friendly controls, including a digital readout. This cabinet table saw is powerful, versatile, and can handle large jobs with ease. Plus, it comes with everything you need to start working right out of the box.
Click here to purchase Grizzly G0651 on Amazon.com