If you're searching for a portable laser engraving machine, the ATOMSTACK M4 and the LaserPecker 3 have much to offer. Both are excellent for engraving various materials with intricate designs up to 4K resolution. They are perfect for making customized accessories, gifts, home decor, crafts, and more. This article describes the best features of each device and compares them to help you choose the best fit for your needs.
ATOMSTACK M4 Fiber Laser Engraver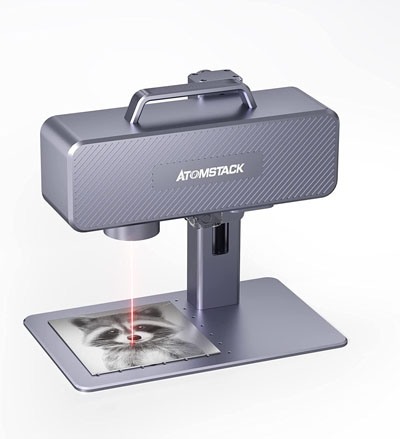 You can hold this engraver in your hand or place it on a countertop while it's working. It etches many different materials, including metals, plastics, leather, lacquered wood, ceramic, and stone. And once you finish the design on the first object, the press of a button lets you repeat the image on the next item. You don't even need to have the engraver connected to the computer.
It uses a cold infrared fiber laser (1064nm) with three-lens dot compression for impressive detail down to 0.001mm. This provides a 4K resolution for gorgeous results.
Moreover, the ATOMSTACK M4 has a top speed of 12,000 mm/s, so it makes quick work of intricate designs. However, the engraving area is limited to 70 x 70mm. There's also a 96mm limit on the item's thickness, but are accessories that overcome the height limit.
Lastly, there are a few cons. At the moment, the included software is only compatible with Windows. Also, it's difficult for the engraver to work on transparent materials. The manufacturer suggests painting the surface black for the best results. Furthermore, the ATOMSTACK M4 is not set up to engrave round objects like the LaserPecker 3 can.
Pros:
Engraves stone, ceramic, wood, leather, plastics, and metals
4K resolution with a minimum pixel size of 0.001mm
One-button press repeats the same design
Includes protective glasses
Cons:
Only compatible with the Windows operating system
Struggles to engrave transparent material
Not wireless – requires USB cable (included) to set up an engraving
Additional information
LaserPecker 3 (Deluxe) Laser Engraver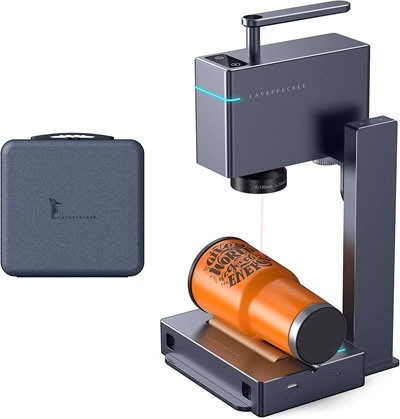 The LaserPecker 3 also uses a cold red laser (1064 nm) to engrave metal and plastic. It cannot engrave ceramic, leather, or wood like the ATOMSTACK M4 or the LaserPecker 2.
Instead, it offers 360° rotary engraving. This means it's ideal for marking water bottles, pens, and other items made from steel, precious metals, aluminum, acrylic, etc. Plus, it features one-button batch engraving, just like the ATOMSTACK 4.
It's fast at what it does, with a top speed of 48,000 mm/m. On the downside, although it offers up to 4K resolution, the minimum pixel size is 0.01mm. That's slightly larger than the dot compression on the ATOMSTACK M4.
Moreover, the maximum engraving area measures 4.5 x 3.1 inches (114.3 x78.74mm). It's possible to expand it further with an accessory. That's considerably larger than the ATOMSTACK M4's capacity.
Happily, the LaserPecker 3 software is compatible with both desktops and mobile devices, including Windows, Mac OS, Android, and iOS.
Pros:
Offers 360° rotary engraving
1K, 2K, and 4K resolution
Wireless connection via Bluetooth 5.0
The top engraving speed is significantly faster than the ATOMSTACK 4
The engraving area is significantly larger than that offered by the ATOMSTACK M4
Compatible with mobile and desktop devices
Very portable – no electrical outlet needed as it can run off a power bank
Cons:
Only engraves metal and plastic
The minimum pixel size is 0.01mm which is not as fine as the ATOMSTACK M4 provides
Additional information
12-month guarantee
Customer support available via email
Includes a storage case
Recommendation
We hope our laser marker reviews help you find the correct device to meet your requirements. Here is a quick summary of reasons to choose either one or the other.
If you want to engrave diverse materials, it's an easy choice. You'll need the ATOMSTACK M4. The LaserPecker 3 is limited to metal and plastic.
Nevertheless, the ATOMSTACK M4 requires a Windows computer, while the LaserPecker 3 is conveniently compatible with a wide range of devices, including mobile and desktop.
What's more, the LaserPecker 3 has a much larger engraving area and can do 360° rotary engraving.
In the end, both manufacturers offer accessories (sold separately) to help overcome the limits and expand the capabilities of each engraver.
Click here to purchase ATOMSTACK M4 on Amazon.com
Click here to purchase LaserPecker 3 on Amazon.com