Time is valuable. Therefore, having a large-volume, rapid 3D printer for printing batches of parts and products is essential.
The JG-A600 premiered in 2022 as an industrial-grade solution for small batch production. Its manufacturer is Shenzen Aurora Innovation Technology, Co., based in China. This company is a well-known developer of 3D printing technology. It has existed for over a decade and is listed on the stock exchange.
Let's review the JG MAKER JG-A600 industrial-grade 3D printer to see if it meets your needs.
Overview of the JG-A600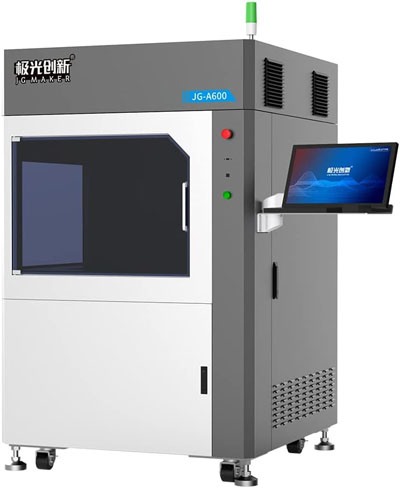 This model is an SLA printer. It uses photopolymerization solidification molding instead of fused deposition modeling. In other words, it has a pulsed ultraviolet full solid-state laser that cures the filament.
Unlike an FDM printer that uses thermoplastic filament (ABS, PLA, TPU), it's only compatible with transparent and translucent photosensitive resin. However, an SLA printer has certain advantages.
First, it's highly accurate down to 0.05mm, and that's ideal for precision models. It performs well when printing complex designs. Furthermore, the vertical accuracy is an impressive +/-0.008mm.
Next, the print speed is ten times faster than FDM, and the finished prints are smooth. They typically don't require sanding or smoothing.
Last, the design allows for larger volume printing than FDM. The JG-A600 has space for prints up to 23.6×22.8×14.9 inches.
Another benefit is the way the resin tank is heated with wraparound wired silicone plates. This is more energy efficient and easier to control. The melted resin is also regulated to prevent fluctuations and ensure an even coating.
Moreover, the patented core control element allows the user to switch the spot mode and increase printing efficiency.
Printing is managed with the custom JGSLA3D software that's compatible with Windows 7. On the surface, it seems like an odd choice to rely on an older version of Windows. But if you consider that many production environments still need to upgrade to the latest operating system, it makes more sense.
Overall, the JG-A600 is thoughtfully designed for rapid production, efficient energy consumption, and ease of use.
More details about the JG-A600
It's shocking that this 3D printer only consumes 3W of energy. Nonetheless, it's an industrial machine that requires a 240V 12A outlet similar to shop saws or cooking ranges.
Also, it's not a tiny device. The official product dimensions are 51.1 inches long x 51 inches wide x 74.8 Inches tall. It weighs approximately 2866 pounds.
The printing spread method is full vacuum adsorption coating, and the standard layer thickness is one-tenth of a millimeter. If you choose the quick print option (perhaps for a draft), the layer thickness varies between 0.1 to 0.2mm. But when you need exact results, the precision setting keeps layers to 0.05mm.
We've already mentioned the print volume, but what about the maximum weight of each print? The limit is 176 pounds. Moreover, since the resin tank holds approximately 230 L, you can produce many prints before refilling it.
Finally, please remember that the printer performs best in conditions ranging from 68 to 82°F and under 40% humidity.
Recommendation
If you often print batches of identical items, the JG-A600 works more efficiently and quickly than a traditional FDM printer. It also has a large volume and capacity to print much bigger things than a consumer printer can. It's no wonder professional 3D printing services use this model.
Click here to purchase JG MAKER JG-A600 on Amazon.com