The Silhouette America brand, an electronic tools manufacturer, specializing in the craft industry, delivers two user-friendly products to the 3D printer market at competitive price points; the Silhouette Alta 3D printer and the Silhouette Alta Plus. While both products offer 3D printing for introductory users at an accessible price-point, we'll review the contrasts in aesthetics, components, and adjustments between the original Alta 3D printer and subsequent Alta Plus. We propose the best recommendation for specific user needs and ideals by the end of our discussion, relating to demographics and project purposes.
SILHOUETTE Alta 3D Printer
The Silhouette Alta 3D printer is a delta-style printer designed for printing PLA filament models for creatives and crafters. It is a printer with the novice user in mind and comes preassembled with an accessible and exhaustive assembly guide and visual aids. It is of high-quality make and has a print volume of 124 mm in diameter and 130 mm in height, which may sound small but is suitable for most craft projects. The printer comes equipped with a hot end assembly, and there is no heated bed. It has a single nozzle head, an acrylic bed lined with painter's tape and a supply of ten extra linings. Be advised that they are fragile because of their material and can be easily ripped when removing the print.
The original Alta device has a broad target audience with a basic design that caters to novice users or more advanced levels on a budget. It does not come equipped with filament detection or power loss recovery, which may alienate it from the advance-user market. The Silhouette Alta has no interface, only needing a power switch as all the control is through your PC device via a USB connection. It comes equipped with custom software called Silhouette 3D, an accessible and beautifully created amenity that uses six different 3D extrusion options for more extensive file choice. The loading and unloading sequence is clearly described owing to its consideration for application by users with little to no experience. It is also compatible with the Silhouette 3D Slicer with fire-and-forget settings, which can be downloaded from the Silhouette website using the serial number on the printer. It includes an online library of 25 pre-made designs users can print for free and additional ones for purchase. In addition, most notably, is the capacity to create samples within the Silhouette 3D software. The Silhouette software is straightforward: you adjust and combine shapes to create the desired design and embellish it with the text editor or shaping. Through this Silhouette 3D software, you can import your other .STL, .OBJ and .S3D files.
SILHOUETTE Alta Plus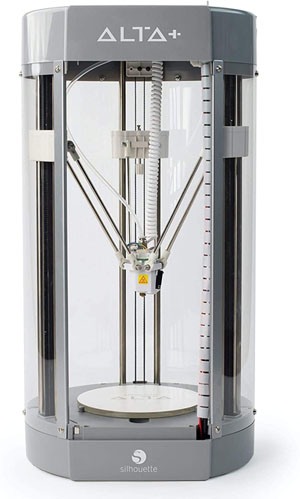 The company's latest model is the Silhouette Alta Plus, an updated version of its accessible and cost-effective predecessor that maintains its competitive price. The Plus is striking in grey, differing from the older version's white in terms of aesthetics. It boasts an enhanced built-in cooling fan to increase airflow and minimize overheating and burning, a concern of when using its predecessor. It has updated manual screws on the Delta arms that hold the printer head in position. The machine can then be calibrated with adjustable knobs, making the calibration process more convenient and precise. They even updated the printer head to help users remove or replace it by snapping the heating device in or out.
The Alta Plus will print designs more quickly than its precursor with a built-in fan, which aims to cool the layers quicker and increase production speed. Overall, the updated Alta Plus offers enhancements that make using the object more straightforward, quicker and precise than the Alta.
Our recommendation
These are both tremendous initial steps into the 3D printing world, especially for prospective users who cannot afford to spend large amounts on non-essential appliances. We recommend the Alta Plus over the Alta for people with no knowledge of operating a 3D printer and who want to explore their interests. Moreover, the Plus' developments make the latest 3D printer from Silhouette the best for various customers. The printer's additional component, the built-in fan, speeds up the printing and prevents the filament from overheating, unlike the Alta. Its innovative adjustments create a smoother finish with customizable calibration knobs for more precision in the end product.
The Alta range is not for those more experienced with 3D printers and unwilling to be tethered to a laptop for the printing. However, the Alta Plus is an excellent exposition into 3D printing for the everyday hobbyist, budding entrepreneur or tentative trier, and so it is our recommendation.
Click here to purchase Silhouette Alta on Amazon.com
Click here to purchase Silhouette Alta Plus on Amazon.com