There are so many competing brands in the market right now that it can be quite confusing for people to make a choice. When it comes to choosing miter saws, it might seem easy to search for one in the beginning until people see just how many miter saws are available right now. There are some people who end up narrowing down their choices to two models – The Hitachi cf12fdh and the Dewalt dw715. Hopefully, at the end of this article, people will be able to pinpoint which model will work best for them.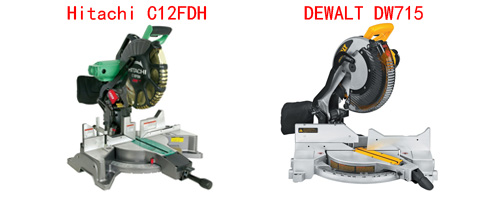 Hitachi CF12FDH 12 Inch Bevel Miter Saw
This model of Hitachi is known to have so many feature that it can be considered one of the best that can be purchased in the market right now. It is a 12 inch miter saw that might seem similar to all the other miter saws in the market but its main difference is the fact that its features are truly state of the art.
Advantages of Hitachi CF12FDH 12 Inch Bevel Miter Saw
The laser guide is known to be very helpful when using the miter saw. The laser guide will make it a point to guide the user where the saw is going to cut through. I have tried the laser and I am glad to say that it made my cuts more precise. Even those who are not professional wood workers will probably have an easier time cutting with the use of the laser guide.
Even though most miter saws have dust bags, the dust bag of this model can become an advantage because it will ensure that the dust particles and other materials will not get scattered all over the work place. All of the dust particles will be placed on the bin and this can be removed easily when people already feel the need to do so.
The blades of the Hitachi CF12FDH are very strong. It is made out of stainless steel which makes it rust proof even if the blades are used for a long time. The die cast metal of the base makes this equipment strong and durable.
Disadvantage of Hitachi CF12FDH 12 Inch Bevel Miter Saw
Even though the bevel can be used in order to adjust the angles, the angle will have to be readjusted again after a few days. This can be somewhat complicated especially for those who would need to make use of the same angle for a certain time.
Dewalt DW715 15 Amp 12 Inch Compound Miter Saw
One of the remarkable things about the Dewalt DW715 is that it takes safety into account first and foremost. This is very important because working with blades can be a bit hard and accidents can happen when people are using the wrong tools or if people who are using the tools are not careful.
This model is also very easy to bring around because it weighs around 42 pounds. It also has a handle. This will make it easier and more possible for people to bring it around from place to place. The Hitachi is a bit heavier. It weighs around 59 pounds which can make it harder to transfer from one place to another.
The bevel of this miter saw although only a single bevel can cut better than the Hitachi CF12FDH. For more precise cutting, the Dewalt DW715 can be the better choice. Do remember that the bevel would have to be adjusted so that it can cut accurately in both sides.
These are just some of the information and details to know about Hitachi CF12FDH and the Dewalt DW715. It will be important to know these details to help people out in making the right choice. It is pretty apparent that they have advantages and disadvantages but it will  be up to people to know which one they could use depending on the projects that they would make.