A portable power station is essential, whether you're an avid camper, someone who lives on the road, or your hometown is prone to blackouts. Jackery has two powerful models, the Explorer 1000 and the Explorer 1500, that offer excellent results in powering all your essential devices. We will compare the two based on power, weight, and recharging methods to determine which is the best option for your needs.
Jackery 1000
The Jackery Explorer 1000 is quite a heavy piece of equipment. It weighs in at 22 pounds, making it harder to transport. Its built-in handle takes some of the stress off carrying it around.
The unit features a 1002 W battery that can power as many electronic devices as you need as long as you stay within the power consumption guidelines. It would even be possible to power a full-size refrigerator with less than 1000 W power consumption.
It has a gamut of ports available:
2 USB-A
2 USB-C
3 AC
1 12 V car charger
The power station is divided into input, DC output, and AC output. Each group is controlled by a power button that must be depressed for the section of ports to work.
The Jackery 1000 features a 7-hour charge time and a maximum input of 200 W. It also has pass-through charging capabilities, so you can still use it while you are charging it. The power station also has a 1000 W pure sine wave inverter which means you can safely plug your most important electronic devices into it with absolutely no worries.
Jackery 1500
The Jackery 1500 is another option for an extreme capacity portable power station. It can power almost anything that runs under 1800 W. This is basically anything that you can run off an outlet in your house.
When you compare that to the Jackery 1000, it's a world of difference. That's 800 W more power that the Jackery 1500 can accommodate than the Jackery 1000. However, both models are equipped with pure sine wave inverters to protect delicate devices from damage.
The Jackery 1500 features a 11534 W battery. The system is 24 V with 12 V and 120 V outlets. Its lithium-ion battery can be used to power at full steam or trickle energy to lower-powered devices. The unit weighs 33 pounds, making it difficult to transport long distances.
It has multiple ports:
2 USB-A
2 USB-C
1 Car Charger
When charging it through an AC outlet, the maximum charging time is 6 hours. If you use a car charger, it's almost 16 hours. However, you can use pass-through charging to use the device to charge other devices during recharging.
One of its better features is that once it's charged, it will hold the charge for quite some time. You can charge it today, and it will still be charged a few months from now. With this type of power station reliability, you can be prepared for any emergency.
Solar Panel Options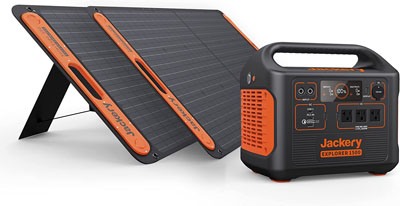 Jackery Solar Generator 1500
Both units come with the option to purchase solar panels for charging. This option becomes more efficient for the Jackery Explorer 1500 than the Jackery Explorer 1000. Both models come with the opportunity to buy the solar panels with the power station in a bundle, or you can purchase the panels separately.
With the Jackery 1000, using the solar panels actually increases the charging time another hour, taking the AC charging time of 7 hours and extending it to 8. Of course, this is assuming you have perfect lighting conditions.
On the other hand, with the Jackery 1500, the charging time decreases from 6 to 5 hours with solar panels, making it more efficient to use solar power to recharge the station.
Our Recommendation
TheJackery 1000 and Jackery 1500 offer excellent backup power in times of need. While the Jackery Explorer 1500 weighs slightly more than the Jackery Explorer 1000, it provides more raw abilityto keep you going. If your power goes out, this is the device that's going to keep your refrigerator running. Additionally, whether you charge it with AC or solar power, it charges faster than the Jackery 1000.
Overall, the Jackery 1500 offers you the best option for backup power or just power while you are out camping or living on the road.
Click here to purchase Jackery 1000 on Amazon.com
Click here to purchase Jackery 1500 on Amazon.com
Click here to purchase Jackery 1000 with solar panels Amazon.com
Click here to purchase Jackery 1500 with solar panels on Amazon.com