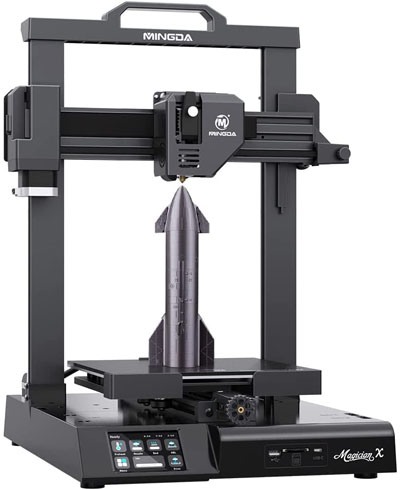 The MINGDA Magician X is an FDM 3D printer. It offers many great features such as double extrusion, a Carborundum glass platform, and a resume print function.
Equipped with a silent motherboard combined with TMC2209 silent steppers, the printer offers faster computing speed, a smoother system, and more accurate and silent printing.
Features like automatic bed-leveling and an interactive touchscreen UI take this printer to the next level. With user-friendly features, it is an attractive printer to have.
Double Extruder
The printer features a dual extruder system. This presents a high force of extrusion. Filament feeding is much smoother. The extruders are lightweight due to the upgraded design. This allows for faster and more efficient printing. The dual filament holder allows for pliable assembly on the right and left sides.
Carborundum Glass Platform
The Carborundum glass platform allows the hotbed to more rapidly heat up. Prints also adhere better with less warping. Strong adhesion keeps the model steady and flat on the surface until printing finishes. Once the platform cools, it is very easy to extract the finished print.
Resume Printing Function
If there is a critical failure such as a power loss, the Magician X can resume printing from the last known extruder position. This will save the user time and filament.
Automatic Bed-leveling
This printer comes equipped with a sensor that can automatically adjust the hotbed when it is uneven. The sensor has a high sensitivity. It uses the sixteen-point matrix measurement method. Manual leveling is a thing of the past when it comes to this printer.
Silent Printing
The Magician X has an ultra-silent motherboard. It is also equipped with TMC2209 silent drivers. Additionally, it has a modular mechanical structure and an upgraded set of extruder fans. All these combined create a quiet printing experience.
Touchscreen
This printer comes equipped with a 3.5-inch large touchscreen UI. It allows for the manipulation of photos and offers multiple languages. It is very user-friendly.
Other Specifications
The printer's build volume is 230 x 230 x 260 mm. It has a print resolution of 0.1 mm. XYZ positioning accuracy is 0.0125 mm, 0.0125 mm, and 0.002 mm, respectively. The nozzle diameter is 0.4 mm.
The maximum print speed is 200 mm per second. However, the manufacturer's recommended range is 60 to 80 mm per second.
The Magician X supports a limited number of materials. It will work with ABS, PLA, and TPU. Connectivity options are SD card, U disk, and USB-C.
The ambient operating temperature is 5°C to 40°C, the nozzle's maximum operational temperature is 260°C, and the hot bed's maximum operational temperature is 110°C.
The machine has a total size of 460 x 415 x 456 mm. It weighs roughly 7.4 kg.
Recommendation
The Magician X offers a wide variety of features that will please users. Most notably, the printer is great right out of the box with minimal assembly and calibration. The UI is interactive and user-friendly. The printer also offers automatic bed leveling. All these together with the multitude of other features make for a great printer. We recommend this printer for beginners and advanced users alike. It is simple and easy to use for beginners and offers complex, detailed prints for advanced users.