With users finding a need for 3D printers, laser engravers, and CNC carving machines, to save space and money, they are turning towards units that offer two or more of these features in one. Being cost-effective and space-saving on the desktop, the Snapmaker 2.0 A350T is a versatile 3-in-1 unit.
Snapmaker 2.0 A350T: 3D Printing, Laser Engraving, and CNC Carving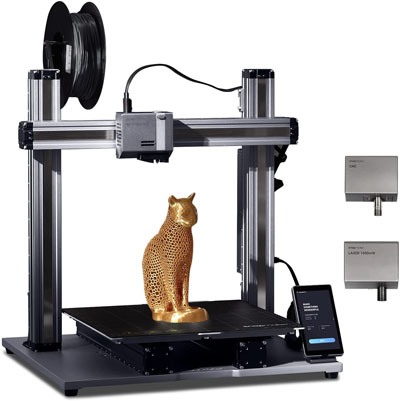 The Snapmaker 2.0 A350T is the largest of three versions of the Snapmaker 2.0. It is a 3-in-1 desktop device featuring 3D printing, laser engraving, and CNC carving.
Compared to the Zmorph Fab, which is another 3-in-1 unit, the Snapmaker 2.0 A350T offers a much larger build volume. However, in almost every other aspect, it is less powerful than the Zmorph Fab.
Design
Offering an easy-to-use design, switching from one mode to another is quick. All users need to do is unbolt the tool head and the build platform and replace them with the set that they want to use. The machine instantly recognizes any change in the tool heads and the UI is immediately ready to use or calibrate the changed tool head, depending on which one is attached.
Tool head swapping does take approximately 5 to 10 minutes to complete to switch the physical parts out. Then the machine will need time to calibrate.
The Snapmaker 2.0 A350T offers a full metal build. It gives the impression of being sturdy and robust. The machine rests on a sturdy metal base. Everything gets bolted in. The unit sports a large, solid H frame. The tool head is attached to the cross beam and the build platform is installed beneath.
Touchscreen UI
This model offers a 5-inch touchscreen that allows users to preview models, select options, and calibrate and open stored files. It operates on Android OS.
3D Printing Features
The Snapmaker 2.0 A350T offers a build volume of 320 x 350 x 330 mm for 3D printing. Layer resolution is between 50 and 300 microns. Because it can reach up to 275°C, the model can work with a variety of materials, including PLA, wooded PLA, TPU, and ABS. It also has a standard nozzle of 0.4 mm.
STL and OBJ file types are accepted by the Luban software, giving plenty of flexibility to users.
Laser Cutting Features
The laser diode is 1600 mW 450 nm. The laser can cut and etch materials like non-transparent acrylic, wood, paper, leather, fabric, and plastic.
This laser cutter tool head features a camera that allows the user to see the size of the material against the design before cutting begins.
The Luban software handles all files and supports file types like JOEG, PNG, SVG, BMP, JPG, and DXF.
CNC Features
The CNC tool head is similar to a drill head that accommodates the CNC drill bits. These bits fit into a 0.5 to 6.35 mm shank, which offers 6,000 – 12,000 rpm.
It can use a variety of materials, including carbon fiber sheets, wood, jade, acrylic, and more.
The file types the Snapmaker 2.0 A350T is compatible with for this tool are .cnc and .nc and there are a variety of applications that will all users to convert image formats into these types. Additionally, other file formats can be loaded and have their parameters adjusted within the Luban software.
Recommendation
The Snapmaker 2.0 A350T is an excellent addition to a hobbyist's workbench. It will save them money and space. Additionally, it is easy to use, making it a good choice for beginners.